All accepted students to The University of Tampa must fulfill immunization verification requirements through Med+Proctor.
The immunization verification process is now handled through our partnership with Med+Proctor. Please use the following instructions to submit the proper immunization forms and information:
Sign into your MyUTampa. To open MyUTampa, go to www.ut.edu/myutampa in any web browser and click on the MyUTampa button. Once on your MyUTampa page, click on the chiclet named Med+Proctor.

Complete your contact information and save to continue.
Choose your correct term under "requirement group," complete the remaining prompts and click to continue.
Once you complete the entering terms page, you will receive a pop-up called "Submit Correct Entering Term." Please be sure you have entered the correct term, then click submit.
Med + Proctor will ask you to review the End User Agreement and sign your name to acknowledge the terms of use.
Please complete the brief Tuberculosis Questionnaire before continuing.
Med + Proctor has optional lifetime access for all students. You may either select to enroll in this access for a one-time fee of $10 dollars to Med+Proctor by selecting the green button. To submit your forms for free, please press the gray button, but you will not have access to your immunization records.
Download the Mandatory Immunization/TB Screening Form to take to your medical provider or obtain your current immunization record from your provider as supporting documentation. Please note: any other official documents submitted must include your name and signature and signature from a licensed health care provider.
Once completed you will upload the completed Mandatory Immunization/TB Screening Form, or your immunization record obtained from your medical provider into Med+Proctor.
Connect with Med+Proctor to help you through the process via online chat, or by submitting questions to help@medproctor.com.
Please allow two to three business days for processing and verification.
Be sure to check your Spartan student email for all verification updates from Med+Proctor.
---
---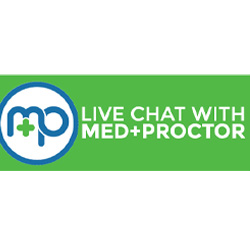 Chat Directly with Med+Proctor!
Live Chat is available Monday-Friday 9 a.m.—7 p.m. EST
Allow up to 48 hours to process your submission during normal business hours.
Optional expedite option is available for a $10 fee. Submission is reviewed within the hour during normal business hours. Please allow up to 2 hours for the hold to clear on your UT record if all requirements have been met.
Chat with Med Proctor for status updates.
Contact UT Medical Services only if your questions are about locating vaccine records or about getting an MMR vaccine or blood titer test.
---