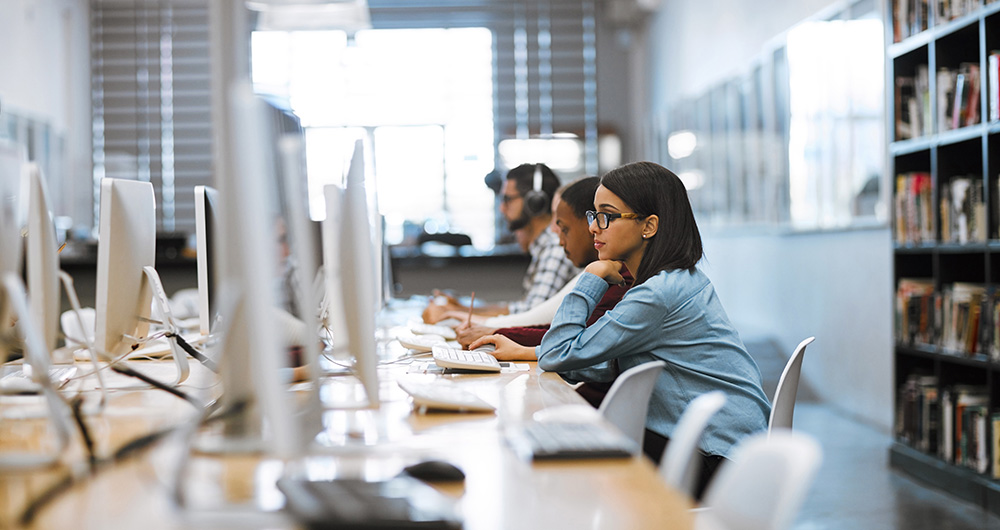 Advanced Digital Literacy Center
The Advanced Digital Literacy Center (ADLC) is a new space on the first floor of the Technology Building dedicated to student digital literacy learning.
Vision 
The University of Tampa's Advanced Digital Literacy Center offers students the opportunity to refine their digital literacy skills and aptitude required to succeed in academic studies and post-graduation.
Mission
The Advanced Digital Literacy Center provides students with a solid foundation in digital literacy. Students participate in specialized programming offered by Microsoft, Adobe and others that will later provide them with career opportunities. Relationships with experts from diverse fields are cultivated to provide students with a wide array of holistic experiences that will enhance their personal development.
Benefits
UT students will be able to:
Apply digital learning in the classroom.
Achieve UT-designed badges of completion.

Learn desirable employment-based digital literacy skills.

​

Gain a competitive edge in the workforce after graduation.
Programs
The Advanced Digital Literacy Center will offer a variety of programs. A few examples are listed below:
UT Digital Applications: Complete the UT digital application sessions (e.g., SpartanLearn (powered by Canvas), VidGrid, Qualtrics, DropBox, etc.).
Security Awareness: Attend a security awareness to learn how to avoid phishing scams and protect University data.
Microsoft Office O365: Students have opportunities to learn Microsoft Office 0365 applications (e.g., Word, Excel, PowerPoint, Access, and Outlook).
Speaker Series: A special speaker series features experts from fields such as the FBI and LinkedIn and our many campus experts to discuss various digital topics.
Campus Collaboration Sessions: Numerous collaborative sessions will occur throughout the year.
All sessions, workshops, speaker series, and collaboration sessions are free of charge to enrolled UT students!
We are excited about this new space and the digital literacy learning opportunities for all UT students, and we can't wait to share more...
UT students are invited to select the "View ADLC Events" link below to register for Advanced Digital Literacy Center programs (login will be requested).
---
---
Information
Hours of Operation
Monday–Wednesday, 9 a.m.-7 p.m.
Thursday-Friday, 9 a.m.-6 p.m.
Summer Hours via Zoom
Monday-Thursday 10 a.m.-3 p.m.
Contact
adlc@ut.edu
Call: (813) 253-6293
Text: (813) 730-5030