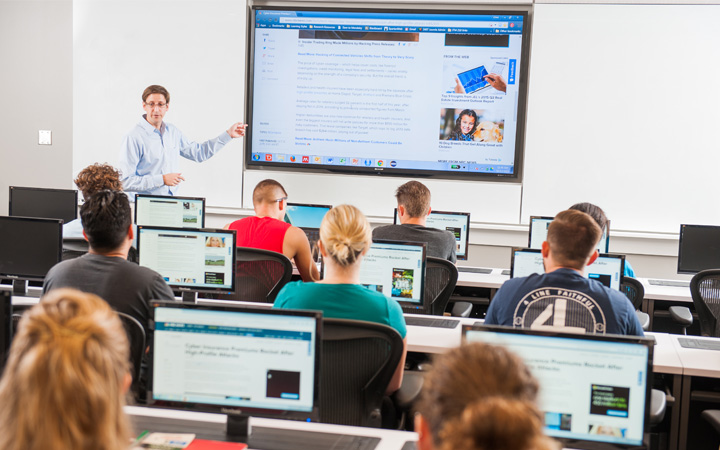 What is cybersecurity? | Back to top.
Cybersecurity is an emerging field where professionals aim to protect the confidentiality, availability and integrity of information and information systems that support businesses and other enterprises. Today, society relies on an immense array of global networks and information systems to run organizations, communicate and support critical infrastructures. A cybersecurity professional helps to protect these systems.
The University of Tampa's cybersecurity program, offered by the Information and Technology Management (ITM) department in the Sykes College of Business, is similar to other programs called information security, information assurance or computer security. The U.S. Department of Homeland Security provides a valuable overview of cybersecurity.
The UT cybersecurity major and minor officially begin during the Fall 2015 semester.
Why major in cybersecurity? | Back to top.
First, high demand on the job market. The need for smart people who understand both business and cybersecurity is significant and growing. The U.S. government's Bureau of Labor and Statistics (BLS) states that the information security field is expected to grow 37% from 2012 to 2022, much faster than the average for all occupations.
Second, competitive salaries. The BLS also states that the median pay in 2012 for an information security analyst is $86,170. With a college degree and professional certifications, pay can be higher.
Third, job satisfaction. Cybersecurity professionals make a significant contribution to the well-being of the organizations in which they work. These professionals are knowledgeable, people-oriented and understand the importance of securing information and technological systems in the workplace.
Why study cybersecurity at UT? | Back to top.
Besides the fact that The University of Tampa offers a great college atmosphere, UT's Sykes College of Business is a ranked AACSB-accredited business school. Moreover, we offer a modern cybersecurity lab containing penetration testing and ethical hacking tools with a full cyber-range of targets. Further, the lab itself is certified to the ISO 27001 international standard—thus, we apply a robust information security and risk management program to our own facilities (i.e. we practice what we teach).
Does a cybersecurity minor exist? | Back to top.
Yes. A cybersecurity minor is an excellent complement and job prospect boost to many majors offered across the University.
Does UT offer any graduate programs in cybersecurity? | Back to top.
Yes. We offer a Master of Science, a graduate certificate and an MBA concentration in cybersecurity.
What classes are cybersecurity majors and minors required to take? | Back to top.
A complete list of requirements and course descriptions is provided in the UT course catalog.
How important are professional certifications? | Back to top.
Like work experience, earning certifications gives you a competitive edge in the job market. While many valuable certifications exist, the UT cybersecurity curriculum is designed to cover the common body of knowledge of the Certified Information Systems Security Professional (CISSP) exam. The CISSP exam is rigorous. To be fully certified, a person must pass the exam and also have sufficient relevant experience in the field. If this experience is lacking, the person can become an 'Associate CISSP' until the experience is gained. Rather than a CISSP, a student can prepare for the Security+ certification or the Systems Security Certified Practitioner (SSCP) designation, which are both valuable if you are looking to start a new career in the field.
What types of companies hire cybersecurity majors? | Back to top.
In addition to pure cybersecurity and IT companies, nearly every Fortune 1000 and medium-size business regardless of industry hires information security professionals. Governments, nonprofits, healthcare, finance, banking, retail, entertainment, energy and transportation industries all hire security professionals. Moreover, a growing number of cybersecurity consulting companies exist today. The University of Tampa's Office of Career Services posts many job opportunities for UT students at Hire UT.
How important is experience in getting your first job? | Back to top.
Gaining relevant experience in the IT and/or information security field is strongly recommended during the college years. The University of Tampa internship program helps students earn valuable work experience. Generally speaking, college graduates with experience have a competitive edge over those who do not – which is true with all fields, not just with IT and cybersecurity.
Why is UT's cybersecurity program offered in a business college? | Back to top.
Many cybersecurity programs are offered in science and engineering colleges whereas UT's program is part of the business college. We emphasize cybersecurity as a business problem, and students in our program benefit from taking business courses that include accounting, marketing, economics, finance and business law. Cybersecurity professionals must be tech-savvy, people-orientated and business smart to be fully successful in today's environment.
Is cybersecurity really just a sub-field of the computer science discipline? | Back to top.
The growing field of cybersecurity (or information security) is more of a separate field than a sub-field of computer science. In cybersecurity, areas such as business, economics, law, mathematics, criminology and human psychology make an important contribution in gaining a broad and rich security education. Today's security professional needs to function in a variety of disciplines and must understand not only computing and technology systems, but also business processes, risk management, statistics, law and regulatory compliance, for example. Because of this, UT's cybersecurity program is designed to provide a strong technology foundation but within a broad educational environment.
What computer would you recommend Cybersecurity students to get? | Back to top.
We do not have any particular requirements for that. However, we would strongly recommend getting as much RAM as possible so you can handle running virtualization sessions easily.
Who can I talk with to learn more about the cybersecurity program? | Back to top.
For more information about the cybersecurity major or minor or to schedule a tour of the cybersecurity lab, contact cybersecurity@ut.edu.
---