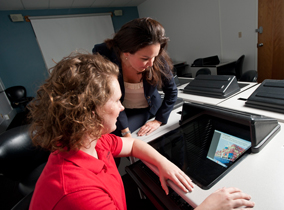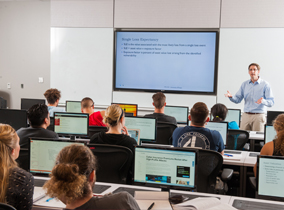 Management Information Systems (MIS) is a challenging field of study focused on integrating computer-based information technology solutions and business processes to meet the information needs of businesses and other enterprises. Computer-based information technology is viewed as an instrument for generating, processing and distributing information. While computers are the tool for this field, we equip students to be the real evaluators, creating efficiency and value within organizations.
Our graduates have a combination of strong technical and business skills, including oral and written communication, bridging the gap that often exists between business users of computer systems and technically-trained specialists. This combination of skills prepares our graduates to be leaders of the next generation of MIS professionals. It also feeds a demand for MIS professionals who are skilled in both computer technology and business. This demand is expected to grow rapidly in the next decade, according to the U.S. Department of Labor.
Students majoring in MIS receive a comprehensive education in design, analysis, development and management of computer-based information systems. They also are educated in the fields of management, marketing, economics, accounting and finance. Students learn to apply the managerial and analytical skills required for success in 21st-century organizations. An MIS minor is an excellent complement to many majors offered across the University.
Features of our innovative program include interactive lectures, individual and team assignments, and experiential learning to help students build successful careers. Five of the top 30 fastest-growing occupations through 2016 are related to computer-based information systems, according to employment projections published by the Bureau of Labor Statistics.
Under the direction of highly qualified and experienced faculty, students work with local companies both individually and as team members to develop information systems solutions to address business problems. Why major in MIS?
Alliances with the SAP and Microsoft corporations provide students access to a wide array of contemporary software tools and systems. Partnerships with information systems professional associations provide many opportunities for student interaction with the business community. Guest lecturers from business and government are regularly featured, and internships with well-known corporations are available to qualified students. Learn more about the Advisory Board and Industry Partnerships.
Topics of Study
Principles of system theory and its application to MIS problems
Information systems analysis and design focused on integrating computer-based information technology solutions and business processes to solve business problems and exploit business opportunities
Planning process as it applies to the information systems development life cycle
Ethical and legal issues as they relate to information systems
Principles of error control, risk management and problem avoidance
Database design and administration
Assessment of an organization's data communication needs and design of an appropriate plan for meeting those needs
Principles of object-oriented programming that formulate a solution to a business problem
Managing the information systems organization.
Program Educational Objectives and Student Outcomes
Career and Graduate School Opportunities
The MIS program prepares students for careers in a wide array of organizations as systems analysts, programmers, database developers and business analysts. After several years of experience and with additional training, graduates can become senior systems analysts, project managers, database administrators and directors of the information systems function within their organizations.
Through UT's partnership with professional organizations, graduates are adequately prepared to pursue successful careers. Graduates are also well prepared to pursue graduate degrees in many business fields. To learn more about graduate programs offered at UT, visit our Graduate Business Programs page.
High School Preparation
No previous experience with computers is required. However, any math and computer-oriented high school curriculum would be excellent preparation for the MIS major.
On-Campus Associations
Management Information Systems majors are encouraged to participate in the activities of local chapters of professional organizations. Business knowledge can also be enhanced through participation in campus professional organizations including the UT Association for Computing Machinery (ACM) Student Chapter. In addition, some students are invited to join Alpha Iota Mu, a national Information Systems Honor Society and/or Beta Gamma Sigma, a national Business Honor Society for AACSB accredited schools.
---
---

The Sykes College of Business is accredited at both the graduate and undergraduate levels by AACSB International.
The management information systems degree program is accredited by the Computing Accreditation Commission (CAC) of ABET.
---