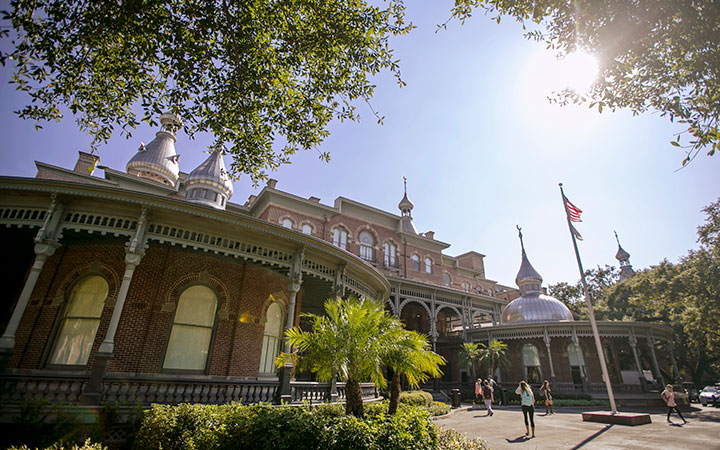 KeepWorking UT for Staff
The University of Tampa provides access to technology, tools and resources to facilitate working effectively. We are committed to helping staff optimize their experience with technology.
Getting Started
Top Tech Tips
Protect Your Passwords
Make sure to read the acceptable use policy (AUP)
Never share your MyUTampa password with anyone
Make sure your MyUTampa password is unique from other accounts you may have
Only approve multi-factor authentication (MFA) requests you initiate and never share your one-time passcode.
Using Zoom Software
How to prevent Zoom bombing: 5 simple tips
Never use your personal meeting ID. Each Zoom user has a personal meeting ID—think of it as your Zoom phone number.
Always use a meeting password.
Use Zoom's waiting room feature.
Mute audio and disable video for meeting attendees. (optional)
Turn off screen sharing for everyone but the meeting host/co-host.
Keep your Zoom Software Up-to-date
When prompted, always run updates from Zoom as they may contain important security items.
To take advantage of new features in Zoom, update your software often.
Using Office 365 and OneDrive
Protect your Data while using the "Anyone with the Link" Sharing Setting
Use View only permissions, by unchecking the allow editing
Set a password, and send it separately to those who you are sharing the document with
Consider toggling the block download option
Links will have a 120-day automatic expiration
Resources
VPN
Sharing Documents using OneDrive
Using OneDrive, you can share Office documents, other files and entire folders. Please see the tips below to show you how. You can stop sharing an item, see who it's shared with or change the permissions of items you have shared.
Find out how to:
Sharing Documents using Dropbox
Staff also have access to Dropbox to backup and share files. To access it, log into MyUTampa and select the Dropbox icon. Dropbox offers a 10-step fundamentals training course.
Training
Contact the Service Desk
ITS Service Desk
Launch the Service Desk app in MyUTampa to contact us about any technology issues you might be having or if you are searching for information on your technology resources. UT's Service Desk Portal includes:
Easy-to-use form for submitting requests and reporting incidents.
Self-service knowledge base – a searchable directory with articles containing tips, tricks and quick solutions for issues that are most commonly reported to ITS.
Service Catalog – a catalog of services that are provided by ITS, as well as a direct link to request those services.
ITS Service Desk Knowledge Base
Step-by-step instructions are available for many of the commonly used applications at UT, such as SpartanLearn (powered by Canvas), Workday, and Zoom. To access the knowledge base, log into MyUTampa and then select the "Service Desk" icon. After logging in, use the search function to locate step-by-step instructions.
Additionally, many direct links to specific knowledge base articles are available on this web page.
UT Campus Network Access
Wired Network
To join the wired network, connect your computer to an ethernet jack to access the internet.
Wireless
Wireless access is available at many locations throughout campus. Login information is the same as your MyUTampa username and password.
UoT_Faculty&Staff (Fastest and most secure connection for employees).
UoT_Guest – configured for guests of the University.
Account and Password Information
MyUTampa
MyUTampa (powered by Okta) is used by UT as a launchpad to most of UT's applications. When students, faculty and staff log into MyUTampa, they can seamlessly access other applications without additional usernames and passwords. Okta is a third-party enterprise-grade identity management service, built for the cloud and compatible with many applications.
Compatible with all browsers, visit (and bookmark!) MyUTampa to begin your reduced-login experience.
For more information about how to setup and use MyUTampa, visit www.ut.edu/myutampa.
---
---
ITS Service Desk - Get Support
Online: ITS Service Desk Portal
Call: (813) 253-6293
Text: (813) 730-5030
Email: servicedesk@ut.edu
Normal Hours of Operation:
Monday-Thursday: 8 am - 11 pm
Friday: 8 am - 8 pm