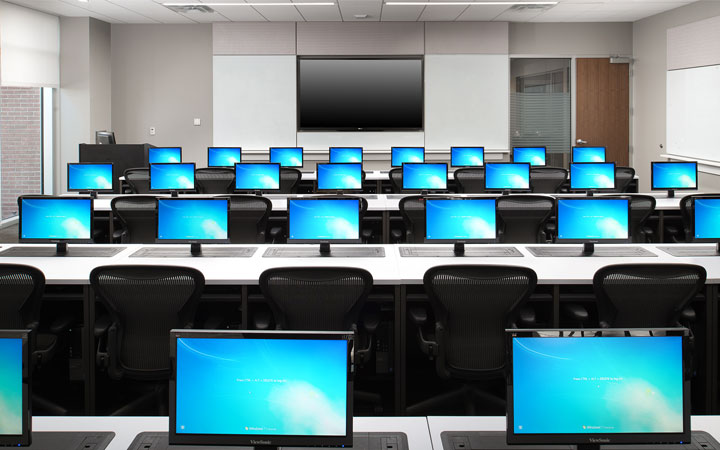 KeepTeaching UT Faculty
The University of Tampa provides access to technology tools and resources to facilitate the remote classroom experience, such as teleconference lectures and discussions, recorded presentations, shared materials, and class assignments. We are committed to helping faculty to optimize their students' online experience with technology.
Please visit Instructional Continuity During Emergencies for assistance with online course development or course delivery.
Getting Started
Understand the Basics

Blackboard Learn is the University's Learning Management System
Below is the full Blackboard Training Program for Instructors presented by certified Blackboard Trainers.

Getting Started and Overviews:

Adding and Managing Content:

Content Collection:

Tests and Quizzes:

Online Exam Proctoring (Proctorio):

Course Copies and Content Sharing:

Grade Center:

Other Topics:
Top Tech Tips
Protect Your Passwords
Make sure to read the acceptable use policy (AUP)
Never share your MyUTampa password with anyone
Make sure your MyUTampa password is unique from other accounts you may have
Using Zoom Software
How to prevent Zoom bombing: 5 simple tips
Never use your personal meeting ID. Each Zoom user has a personal meeting ID—think of it as your Zoom phone number.
Always use a meeting password.
Use Zoom's waiting room feature.
Mute audio and disable video for meeting attendees. (optional)
Turn off screen sharing for everyone but the meeting host/co-host.
Keep your Zoom Software Up-to-date
When prompted, always run updates from Zoom as they may contain important security items.
To take advantage of new features in Zoom, update your software often
Using Office 365 and OneDrive
Protect your Data while using the "Anyone with the Link" Sharing Setting
Use View only permissions, by unchecking the allow editing
Set a password, and send it separately to those who you are sharing the document with
Consider toggling the block download option
Links will have a 120-day automatic expiration
Resources
Sharing Documents using OneDrive
Using OneDrive, you can share Office documents, other files and entire folders. Please see the tips below to show you how. You can stop sharing an item, see who it's shared with or change the permissions of items you have shared.
Find out how to:
Training
Upcoming and previously recorded trainings, specifically designed for faculty, are available on the Faculty Training Opportunities webpage. Everything from Blackboard, advising in Workday, accessibility, and much more are offered.
Contact ITS Service Desk

Monday - Friday 7:30 am. to 11 p.m.
Weekends 8 a.m. to 5 p.m.
ITS Service Desk Portal
Launch the Service Desk app in MyUTampa to contact us about any technology issues you might be having or if you are searching for information on your technology resources. UT's Service Desk Portal includes:
Easy-to-use form for submitting requests and reporting incidents
Self-service knowledge base – a searchable directory with articles containing tips, tricks and quick solutions for issues that are most commonly reported to ITS.
Service Catalog – a catalog of services that are provided by ITS, as well as a direct link to request those services.
ITS Service Desk Knowledge Base
Step-by-step instructions are available for many of the commonly used applications at UT, such as Blackboard, Zoom and Workday. To access the knowledge base, log into MyUTampa and then click on the "Service Desk" icon. After logging in, use the search function to locate step-by-step instructions.
Software Available for Faculty
The software list in the Service Desk Knowledge Base provides supported software options available to faculty. If the software you require is not listed, or if you have any questions regarding software, please submit a ticket via the ITS Service Desk.
UT Campus Network Access

Wireless
Wireless access is available at many locations throughout campus. Login information is the same as your MyUTampa username and password (see Account and Password Information section below).
UoT_Faculty&Staff (Recommended for fastest connection) – configured for the 2.4 GHz / 5 GHz band and uses WPA2 encryption.

UoT_Guest – configured for guests of the University.
Information Security
SpartanSecure
All faculty are required to take the online security awareness training course (KnowBe4) provided by Information Security, located at East Walker Hall, Room 127. Information will be provided.
If your computer is infected, you will be notified and provided information with instructions on what to do if we determine that your computer has become infected with the software.
For more details about this and other provided services, please visit www.ut.edu/infosec, and review the information in the Safe Computing @ UT link.
Account and Password Information
MyUTampa
MyUTampa, powered by OKTA, is the tool used by UT to reduce the number of sign-ons for select applications. When students, faculty and staff log into MyUTampa, they can seamlessly access other applications without additional usernames and passwords. OKTA is a third-party enterprise-grade identity management service, built for the cloud but compatible with many on premise applications.
Compatible with all browsers, visit (and bookmark!) MyUTampa to begin your reduced-login experience. You will use the same domain username and password that is used to log in to the University network.
For more information about how to setup and use MyUTampa, visit www.ut.edu/myutampa.
Password Changes and Resets
The best way to change your Spartans domain/email password is through Okta at www.ut.edu/login.
In MyUTampa, your password can be changed by going to the Settings.
Online Email Access through Office 365 (including Email, OneDrive, SharePoint) – mail.office365.com
Currently you will be redirected to another login screen. Authenticate using your full email address (e.g. jsmith@ut.edu) and password. Office 365 defaults to your email view. OneDrive and SharePoint can be accessed by clicking on the icon at the far left of the information bar at the top of the screen.
Blackboard – www.ut.edu/myutampa
Access Blackboard by logging into MyUTampa, UT's single sign-on platform.
Blackboard is an online tool that enhances the student's learning experience. The University of Tampa makes extensive use of the Blackboard Academic Suite. Professors are able to post syllabi, notes from classroom presentations, messages to students and other useful information. Students can reply to faculty messages, post questions of their own, submit papers and use many other helpful features and tools.
Note that new Blackboard accounts and courses are not available until 42 days prior to the start date of a semester.
Helpful ITS Information
Getting Started Guide for Faculty
---
---
ITS Service Desk - Get Support
Online: ITS Service Desk Portal
Call: (813) 253-6293
Text: (813) 730-5030
Email: servicedesk@ut.edu

Normal Hours of Operation:
Monday through Friday: 7:30 a.m. – 11 p.m.
---