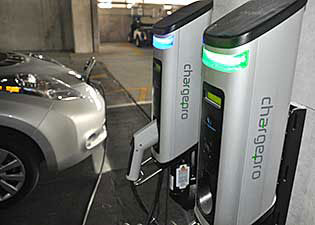 As part of its continued commitment to sustainability and energy savings, The University of Tampa has four electric vehicle (EV) charging stations, two  located on the first floor of the Thomas Parking Garage and two located at the first floor of West Parking Garage. These EV charging stations can charge all new generation electric vehicles, such as the Chevy Volt, Nissan Leaf, Ford Focus Electric and Honda Fit Electric. Tesla can be charged if you own a charger adapter provided by TESLA. The stations are completely reliable and easy to use. It's as simple as plugging in your cell phone.
How to Charge an EV
Hold your Smart Pass up to the charging station's card reader symbol to activate. 
Unplug the connector from the charging station and insert it into your electric vehicle; once you hear the "click" sound, the connection is secure.
When the charging station status turns from "available" (signified by the blue lights) to "charging" (signified by the green lights), you have started uploading a charge to your vehicle. 
When your electric vehicle is fully charged, or you decide to end your charging session, simply unplug the connector from your vehicle, coil the cord around the bracket and plug the connector back into the station. 
Smart Pass
The EV charging system includes web-based tools for drivers, including the Smart Pass. The Smart Pass will be mailed to registered users and is needed to activate the EV charging stations.

Drivers can go online to Sema Connect to establish an account, provide a credit card number, indicate text messaging preferences and receive a Smart Pass in the mail, or download the Sema connect app in your smartphone and open an account.  
Is There a Fee to Charge?
Vehicle charging fee will be $0.25 per kilowatt hour. There is no charge for parking.
---