The Department of Biology offers a degree in environmental studies, as well as minors in environmental studies and sustainability. The environmental studies major and minor include public policy, natural sciences, communication, humanity and geography, and environmental systems, while the sustainability minor is an interdisciplinary program requiring coursework throughout all four university colleges to create synthesis between the social, scientific, economic and expressive aspects of global environmental issues. The courses associated with these programs span 10 academic departments, indicating a broad focus on sustainability and environmental issues throughout the University curriculum.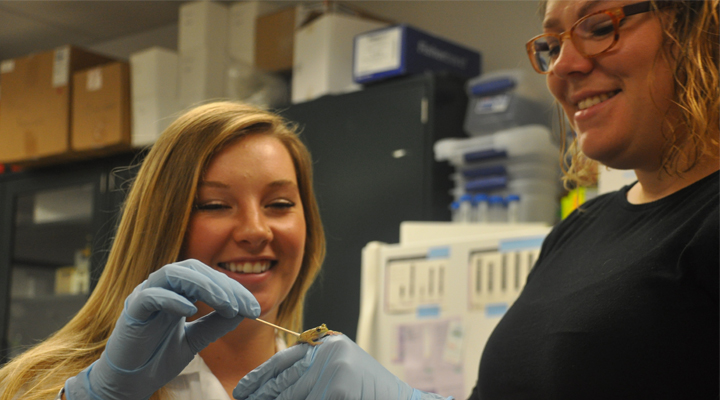 Nichole Laggan '18 studies a fungus that is contributing to the extinction of frogs with Taegan McMahon, assistant professor of biology. She presented her research at the Annual meeting of the Ecological Society of America.
The Faculty Sustainability Committee works to implement sustainable solutions in the classroom and on campus, producing resources like
Classroom Sustainability Strategies
and
Campus Recycling Resources
. The existing committee includes
Dan Huber
, Biology;
Bella Galperin
, Management;
Sasko Ivanov
, Mathematics;
Stephen Kucera
, Biology;
Simon Schuler
, Chemistry and Physics;
and Jessa Madosky, Biology. Administrative members in an ex-officio capacity include Gina Firth, associate dean of Wellness/Student Affairs.
The committee's mission is to develop a culture of sustainability and global stewardship within the campus community through the hosting of sustainability events including a 30-day Sustainability Challenge and an annual film series. The committee also has secured UT's membership in the Association for the Advancement of Sustainability in Higher Education (AASHE), whose mission is to inspire and catalyze higher education to lead the global sustainability transformation.
Committee members successfully wrote grants for Senior Class Gift awards that went toward the purchase of a photovoltaic array (solar panels) on the Thompson Building; the purchase of three water-bottle filling stations for installation around campus; and to fund to retrofit the old lighting system in the Bailey Art Gallery to accommodate more appealing and efficient LED lights.
The University of Tampa has a Beta Beta Beta chapter of this national collegiate honor society and academic fraternity for undergraduate biology students. In addition, Live Well UT sponsors three student organizations that focus on sustainability:
Roots and Shoots – Roots and Shoots is an international organization created by Jane Goodall that inspires action in students of all ages to help animals, the community and the environment. One of their main goals is to help fellow students further their education and experiences by offering networking opportunities with professors and community professionals, increasing students' awareness of and participation in undergraduate research; increasing involvement within the Tampa Bay community through service projects; and encouraging students to step beyond their comfort zone to strive for sustainable excellence.
Environmental Protection Coalition – The Environmental Protection Coalition (EPC) consists of students concerned with the conservation and advocacy of the earth's biomes and its inhabitants, especially those of other species. EPC focuses on fostering sustainable community connections on and off campus through volunteering. Students volunteer with varying organizations such as Zaskee Bird Sanctuary, Big Cat Rescue, Tampa Bay Watch and a bi-weekly Bayshore cleanup.
Student Environmental Action Coalition – The Student Environmental Action Coalition (S.E.A.C.) focuses on making UT more sustainable through various initiatives as well as educating and enabling students to make environmentally conscious decisions. Initiatives include expanding recycling on campus, waste reduction and food recovery. Through a partnership with Sodexo, S.E.A.C. currently distributes unused food to the afterschool program, Cornerstone Kids, as a chapter of the Food Recovery Network.
UT's own
Marine Science Field Station
, located on Tampa Bay, is involved in various projects that support our sea water resources, coral reefs and sea life.
Earth Charter
In 2008. UT hosted the Earth Charter Community Summit. This is an annual summit that brings people together in cities around the world to be inspired to make the Earth Charter's principles a reality in their lives and communities. The summit is organized by The Institute for Ethics & Meaning, a volunteer community-building organization based in Tampa. The programs include speakers and highlighted initiatives in business, education and government from more than 50 locations.
In 2008 Tampa Bay area businesses first were honored with the presentation of Sustainable Business Awards. The selection of the award winners was undertaken as Sykes College of Business graduate project.
Each year since 2008, UT has worked with Earth Charter to continue hosting the Sustainable Business Awards. These programs bring 200-300 business and community leaders to our campus to focus sustainability innovations and initiatives. The award program expands awareness to encourage sustainability efforts and recognizes companies for their works in this realm. The University of Tampa is pleased to help provide leadership with Earth Charter on the awards program. We are very pleased to have our graduate students involved in the efforts for their learning benefits and for the opportunity to contribute to the community.
In this same year, UT hosted the Earth Charter Community Summit. The summit brought people together in cities around the world to be inspired to make the Earth Charter's principles a reality in their lives and communities. It should be noted that in 2001 UT helped launch Earth Charter Community Initiatives, which was striving to create a national movement focusing on sustainability. Its initiatives were broadcast via satellite from UT to 12 U.S. cities. For more information about Earth Charter USA, visit
www.earthcharterus.org
.
---