Published: September 12, 2019
UT Intern Involved in Designing New Super Bowl LV Logo
When Patchanit Sriviroch '19 came to the U.S. from Thailand as a foreign exchange student in high school, her understanding of football was what most Americans call soccer. Her host dad, an avid Tampa Bay Buccaneers football fan, introduced her to the game, encouraged her to play flag football in high school and even took her to Bucs games.
Sriviroch quickly became a fan of American football. It's all the more gratifying for her that Super Bowl LV, which will be hosted in Tampa in 2021, will feature a logo unveiled last week that she was a key part of creating.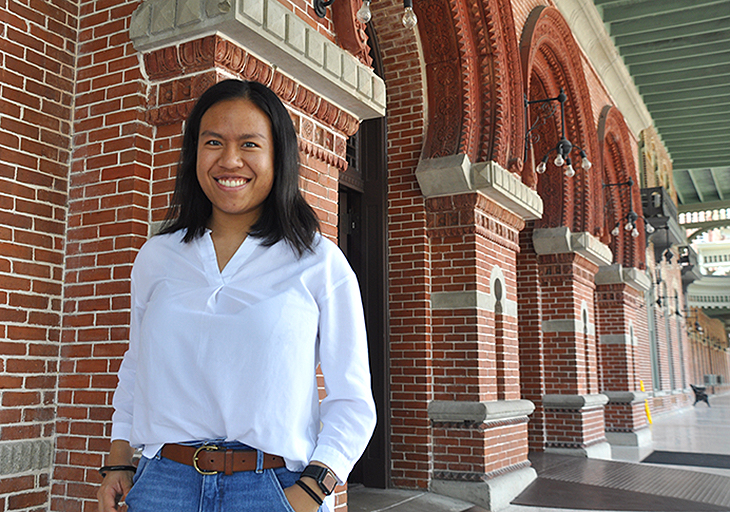 Patchanit Sriviroch '19, who while an intern with Tampa advertising and design firm Schifino Lee, was directly involved in designing the new #SuperBowlLV logo unveiled in early September.
"It blew me away when I found out they picked my design," said Sriviroch, finding it surreal to see the design in the Tampa Bay Times and on social media. "It is crazy."
Sriviroch, a graphic design major, was a graphic design intern this past summer with Tampa advertising firm Schifino Lee. She was included on a project for the Tampa Bay Sports Commission to design the Super Bowl LV logo. Sriviroch came up with a design that evolved and was molded with feedback from the entire creative team at Schifino Lee.
"She was great to work with," said Matt Kannenberg, associate creative director at Schifino Lee. "She was able to take a complicated list of attributes and arrive at a great visual direction. She also customized type to suit the look perfectly."
Schifino Lee, like several other Tampa firms, utilizes UT interns in three seasonal programs throughout the year in three departments: creative, account management and social media.
"UT has been a very important source of interns for us," said Ben Lee, principal and agency co-founder. "We give them hands-on client work. They have great energy and enthusiasm, and because our program is so competitive, we get very high-quality students. We give them great experiences and they rise to the occasion. (Sriviroch) was talented to begin with."
The team environment helps the interns grow in a mentor-type setting.
"I got to see how an ad agency works. It was totally different than a school project," said Sriviroch, noting the need to work faster and be on top of communicating with the right departments and team members. She was involved with a variety of design projects that included packaging, editorial layouts and websites.
The experience has not only given Sriviroch a star on her résumé, but she has learned to work more efficiently in a professional setting. "I can see myself working differently from last semester to this semester," she said.
The process of creating the Super Bowl logo involved plenty of research. Sriviroch spent a lot of time on the three-page creative design brief, a document that specifies everything from the mood the client wants conveyed to the types of colors to be used, logos they don't like the look of as well as examples of ones they do.

Sriviroch came up with a design that evolved and was molded with feedback from the entire creative team at Schifino Lee. Pictured are some earlier versions of the Super Bowl logo.
Sriviroch, a visual learner, has a small notebook that she marked up with word maps to brainstorm creative direction, then she sketched pencil designs. Once she had a more final idea, she took it to Adobe Illustrator, where she digitized the creation, including customized typography. Each step of the way, the team would provide feedback and evolve the look, which also had to respond to the feedback of the client.
"There's no expectation that (interns') work will be presented or chosen — it's more of an exercise for them, but if they happen to knock it out of the park we'll guide and direct them and let them be a part of the project as it progresses," said Kannenberg.
Knocking it out of the park, in this case, means that Sriviroch will see her thumbprint in a logo emblazoned on Super Bowl swag for years to come.
"My professors say to try and make the most of your internships, because you never know how you'll be impacted by them," she said. "I just treated it as my real job. The hard work has paid off now."
Have a story idea? Contact Jamie Pilarczyk, Web Writer
Read more UT Life stories

---