Published: June 20, 2022
UT Faculty Member, Students Create 'Visual CliffsNotes' of Hemingway Texts
In just four days, a University of Tampa professor and two students brought as much of Paris to contemporary readers as they could.
Associate Professor of English Sarah Juliet Lauro and her students went to Paris to document the sights mentioned in Ernest Hemingway texts.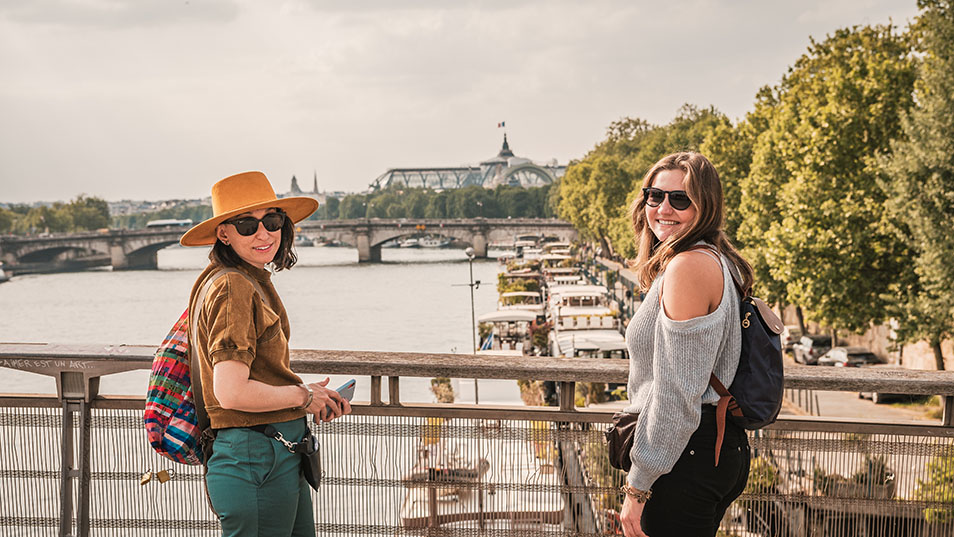 Associate professor of English Sarah Juliet Lauro (left) traveled with two students, including Megan Darling '24 (right), to Paris to document the sites in Ernest Hemingway texts for a student-created website. Photo by Chandler Culotta '22
The pictures, video and summaries were then put on the student-created website, UniversityOfTampaHemingwayStudy.com to provide readers multimedia annotations that they can utilize while reading Hemingway's novels.
The website features walking tours that take readers through the streets of Paris from Café Delmas and the Verlaine home, two of the many places Hemingway liked to write, and a route shadowing the characters in The Sun Also Rises.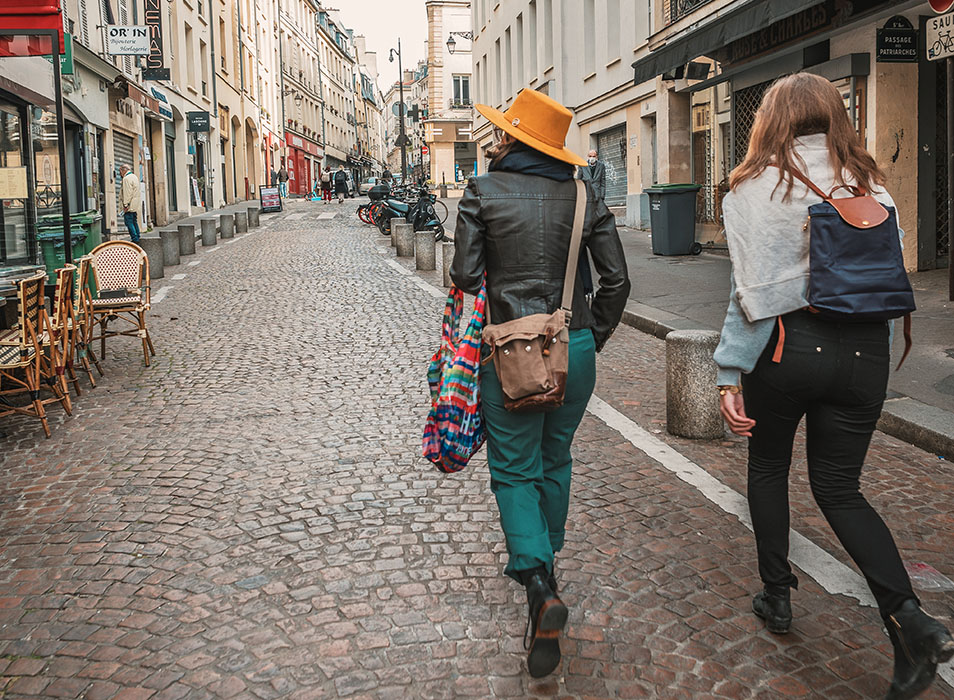 Associate Professor Sarah Juliet Lauro and her students added walking tours of Paris to the student-created website. Photo by Chandler Culotta.

Three cohorts of students have contributed to the project that started in 2018. The initial concept was to bring the locations that Hemingway wrote about including Paris, Key West and Havana to people who aren't able to see them in person since many people at some point read The Old Man and the Sea, Lauro said, but may not have a visual of some of the things mentioned in the books.
She described the project as a visual CliffsNotes for readers.
For example, if Hemingway is talking about a specific kind of bird or fish or boat, there would be a picture to give readers an idea what it looks like.
The website is free to access, making the multimedia annotations widely available.
It's her third year working on the project; the first year they traveled to Key West, due to the COVID-19 pandemic and travel restrictions, a second trip didn't happen, and finally, they stopped in the City of Lights.
This year Lauro received a $10,000 grant from the Office of Undergraduate Research and Inquiry to help support three students who worked for the full academic year on the grant, Megan Darling '24, Chandler Culotta '22 and Mark-Elliot Finley '22, though Finley did not go on the trip.
Darling, an English major, studies literature and how it connects with history, society and people.
The students and Lauro read the novel together to identify people, places and things that they believed deserved annotations.
"After experiencing Parisian culture, I was able to understand how Hemingway wove his personal experience with Paris into some of his novels," Darling said.
Hemingway had a keen eye for detail; focusing on the streets, how to get from place to place and the people around him, and Darling was able to develop a deeper understanding of what Hemingway was trying to convey upon witnessing those details firsthand.
The students worked on the project for an entire academic year, meeting with Lauro every week from September to May. Culotta has been working on the project since the beginning, taking photographs and putting together videos for the walking tours.
"We are able to find the real-life locations that he writes about in almost all of his pieces and through visiting them, we are able to align our thought process closer to his as he wrote," he said.
The group did a poster presentation in the spring at CALapalooza, an open house hosted by the College of Arts and Letters that showcases what students around the college are working on.
The project, Lauro said, will help to get students prepared for the working world beyond college, providing them with skills they can utilize once in the workforce, including web design, copyediting and how to build a website from scratch.
Culotta said being on location elevates his work as both an artist and researcher because he is also able to speak with locals who are familiar with the specific locations that Hemingway is writing about, rather than solely relying on sources and photographs found online. This way, he can often learn new aspects about the locations that might not traditionally be found online.
"They're getting really marketable skills, in addition to the literature analysis part of it," Lauro said. "It tells other people that we're a University that values this student-centered work."
Have a story idea? Contact Brianna Kwasnik, Digital Content Editor/Writer
Read more UT Life stories.
Subscribe to News and UT Life.
---