Published: December 02, 2019
The University of Tampa speech program is considered the nation's "top undergraduate communication program," after receiving the National Communication Association (NCA) Rex Mix Program of Excellence award at the NCA's 105th annual convention in Baltimore on Saturday, Nov. 16.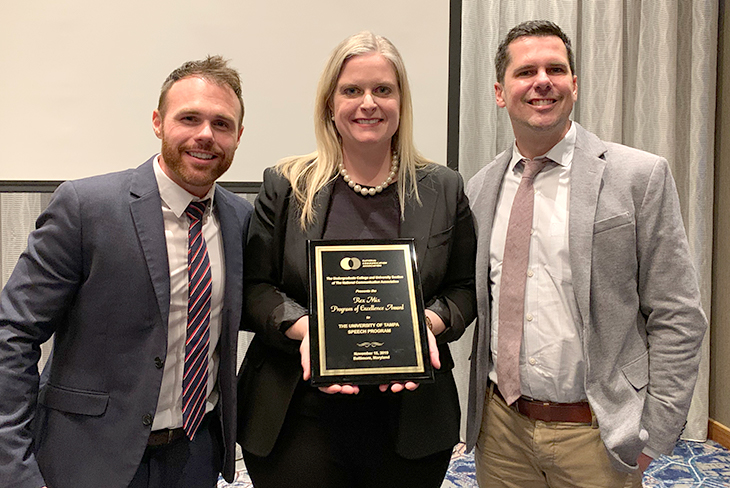 Accepting the Rex Mix Program of Excellence award from the National Communication Association were from left Chris Gurrie, UT's director of communication and speech studies; Kristen Foltz, professor of instruction I; and David Gudelunas, dean of the College of Arts and Letters.

The NCA awards the Rex Mix award to the nation's top program annually. Nominated programs are evaluated for excellence in curriculum, program quality, course design and special programs.
AT UT, the speech program offers communication courses driven by innovation to support the University's mission of learning by doing. Classes and practical experiences are designed to nurture students' creative expression, enhance verbal and physical communication, and teach critical thinking. The program also houses the Center for Public Speaking, which is focused on enhancing communication skills and providing support services. The center provides one-to-one tutoring and small group workshops with peer tutors and experienced professionals.
"This is really awesome for the speech program, the Department of Communication, the Department of Speech, Theatre and Dance, the College of Arts and Letters, and The University of Tampa," said Chris Gurrie, associate professor of speech.
Dartmouth College won the award last year.
The award is named in honor of Rex Mix, a professor of speech communication at the University of Lynchburg (VA). Mix was the leader of the Undergraduate College and University Section (UCUS) of the National Communication Association for many years; his colleagues remember him as a tireless advocate for "curricular innovation and pedagogical invention," particularly within small speech and communication programs at small undergraduate institutions.
NCA is a nonprofit membership-based scholarly society founded in 1914. NCA's mission is to advance communication as the discipline that studies all forms, modes, media and consequences of communication through humanistic, social scientific and aesthetic inquiry.
---
---
Related Stories: College of Arts and Letters , 2019 , News Articles
---