Published: November 15, 2018
He's tapping his feet, drumming his fingers and bobbing his head. But ask Elwood Bond '20 if he's nervous, and the answer is no. He's quietly practicing.

"I'm a menace to be around," said Bond, a music education major whose principle instrument is contemporary percussion. "There are patterns with the lower half of my body that I know I need to do. While soloing, they tell you to put this kind of pattern on auto-pilot. If I can talk while doing this and keep it going, I know I can mess around with my hands and do whatever I want."

Elwood Bond '20 was named in Creative Loafing's Music Issue: 30 Under 30.
Bond was named in Creative Loafing's Music Issue: 30 Under 30, and he will give his junior recital, the first time UT's had a degree recital by a contemporary percussion student, on Friday, Nov. 16, at 8 p.m. in the Plant Hall Music Room.

Bond plays with a wide genre of bands, from reggae, ska and punk to jazz and big band. He's a member of Monument Beach (ska), Perse (hardcore), Carrollwood Jukebox Big Band, Station Cases (hardcore), The New Guard Jazz Collective, is the house percussionist for Jobsite Theater and plays a weekly gig for two churches. He also frequently fills in for bands, most recently with reggae band Keith & Tex.

He stays up late and gets up early, because there just aren't enough hours in the day to get it all done between classes, teaching, rehearsing and performing.

"There's always a pitcher of cold brew coffee in my fridge," he laughed.

Bradford Blackburn, chair of the Department of Music and associate professor, said he often hears Bond practicing early in the morning before classes in the recording studio.

"Elwood has a true passion for the art of jazz drumming," Blackburn said. "When you listen to the way he practices, you realize he has very specific goals that he is working towards, and that he is very efficient with his time. Elwood is always eager to take whatever opportunities are available and make the most of them."

Bond said he's changed the way he's been playing over the last couple of years, moving away from what you'd think of a typical bombastic solo performer to "adapting to the idea of playing with discipline, playing for what the bands need and not what I want to do. I stopped trying to learn super cool licks and fills and got solid at playing rhythms and grooves. That honestly has paid off more than anything else. No one cares at all about chops. It's all about the rhythm."

His dedication to his craft is one thing that sets Bond apart, said his instructor Dave Rudolph.

"Elwood is a talented young drummer, but he didn't get his skills magically," Rudolph said. "He has a great work ethic, takes guidance well and has a wide variety of musical interests which help fire his motivation. All of these things combine to make him a musician with a very promising future."


Bond, of Tampa, transferred to UT from Hillsborough Community College. He wanted a school that had smaller class sizes and would give him a more personal relationship with his instructors. He's felt that at UT, where instructors have customized some of his assignments to tailor to his strengths.

"The faculty here is unmatched," Bond said. "Everyone who teaches at UT is world class, super knowledgeable and is always very willing to help. It's also a tight-knit community."

Bond, who teaches piano and drums in private lessons, considered the Bachelor of Music in performance, but decided that with a music education major, he could still be taking the same amount of lessons and playing in the same number of ensembles.

"With the music education major, I can be certified to teach in the state of Florida, and I can learn how to be a better educator," he said. "I really like teaching, and I like teaching absolute beginners because I like getting kids excited about music. I like inspiring the creativity and the love for music."

It was in Nathaniel Strawbridge's world drumming class that he realized elementary music education extended beyond those high-pitched recorders. Introducing kids to world music appealed to him. "I'm also a big goof, so I like that whole environment and age."

Ideally, Bond would like to be a clinician musician, travelling around teaching master classes. More short term, his goal after graduation is for people to feel comfortable recommending him for jobs, which seems like a goal he's already met given his very steady performance schedule.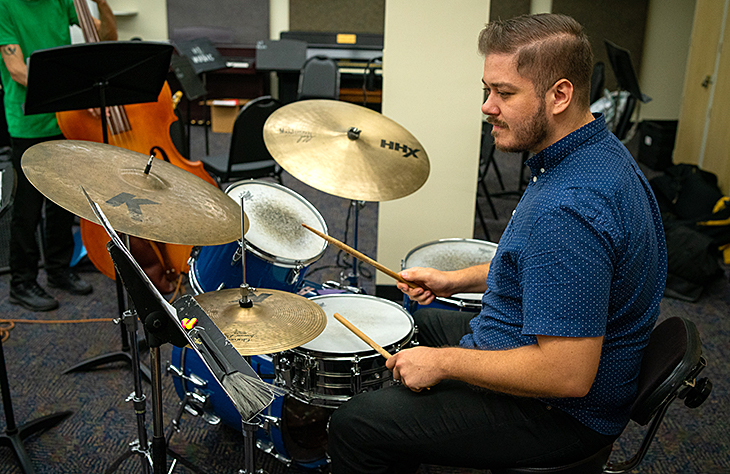 Bond said he's changed the way he's been playing over the last couple of years, moving away from what you'd think of a typical bombastic solo performer to "adapting to the idea of playing with discipline, playing for what the bands need and not what I want to do."
Translating his joy for music to others is what drives both his desire for teaching as well as for performing.

"I've started to find much more enjoyment out of seeing people walk into a room while I'm playing and start dancing, where they almost can't help but move to it," he said. "That to me is more of what I try to shoot for. They don't notice me, but they notice what I'm doing and it's reflected."

On the 30 Under 30 designation (which he also made five years ago in 25 Under 25), Bond was excited to see several of his peers, people he's played with and his bands have played with over the years, in the same listing.

"It was super, super, nice, because you get in a vacuum of what you're doing. You forget to take a step back, see what you've done and see how other people are perceiving it."



Have a story idea? Contact Jamie Pilarczyk, Web Writer
Subscribe to News and UT Life stories
Read more UT Life stories
---
---
Related Stories: Music
---