Published: May 11, 2020
Class of 2020 Receives Diploma on the Top of a Minaret
Instead of receiving their diplomas in person, the Class of 2020 found theirs presented at the top of a minaret.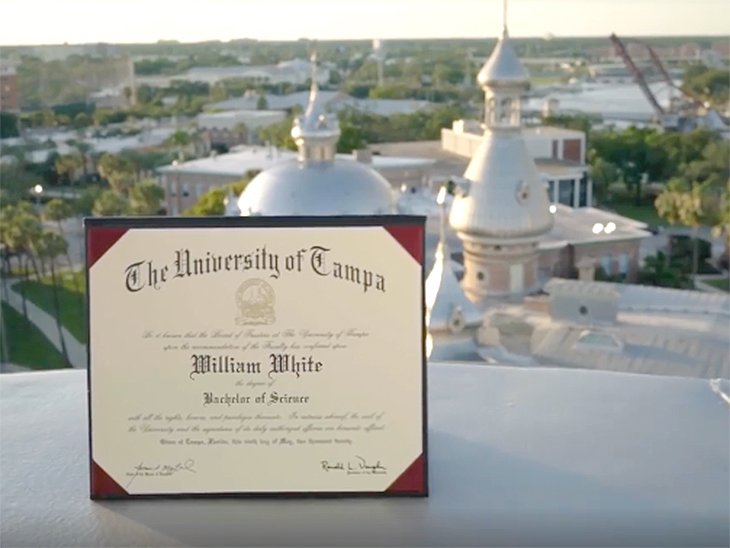 Instead of receiving their diplomas in person, the Class of 2020 found theirs presented at the top of a minaret in personalized videos to each graduate.
"Picture yourself, today, atop a minaret, looking toward another amazing adventure," narrated Stephanie Russell Krebs, vice president for student affairs and dean of students, in the personalized videos sent to each graduate featuring sweeping views of campus and a climb up one of the Moorish minarets adorning Plant Hall. Through one of the keyholes of the minaret, the graduate's diploma sat, backlit by an aerial view of campus. "The world is yours, and you've earned it. Congratulations to you, the Class of 2020. Everywhere, and Spartan strong," said Krebs.
It was the highlight for many in the University's 150th commencement held virtually on May 9.
The ceremony included remarks by President Ronald Vaughn; Jim MacLeod, chair of the UT Board of Trustees; and Krebs. A downloadable version of the ceremony is now available at ut.edu/Classof2020.
"We are profoundly disappointed that your walk across the stage is now a walk across your living room, and celebrating your graduation with your friends has a different meeting as you celebrate via texting, social media and everyone's favorite Zoom," Krebs said in the virtual commencement ceremony. "While the physical location of your commencement has changed, the meaning and the outcome has not. You have worked hard, you have adapted, you have demonstrated resiliency and have reached this day with an ending challenge like no other class in UT history."
President Vaughn empathized with the Class of 2020, knowing they are excited and anxious about what may lie ahead, but reminding them their UT degree has prepared them to excel.
"Perhaps more than anything else, we hope to have ignited in you the hunger for constant learning, for the world as we once knew it no longer exists," Vaughn said. "Today is characterized by accelerated pace, increased complexity, global interconnectedness, intense competition, changing employee expectations and new societal challenges including pandemic preparedness. In this world of challenge and change, knowledge is now our most important product."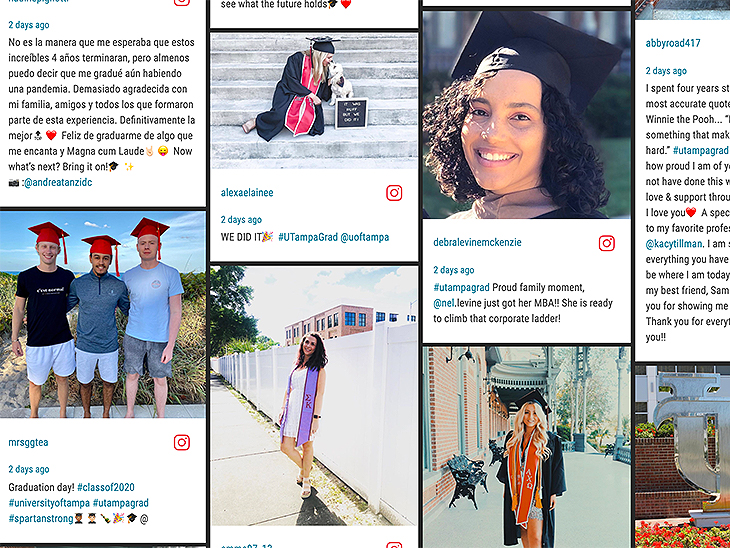 Graduates and their families shared selfies of their commencement celebrations, of their graduation watch parties, of them with Flat Sparty, of their graduation portraits (homemade or professional) and of their favorite memories from the last four years, tagging #UTampaGrad. See the full collection at ut.edu/UTampaGrad.
The virtual commencement videos were tailored to the four academic colleges, with a unique student speaker and that college's dean giving remarks. Those speakers included Dean Paul Greenwood, College of Natural and Health Sciences, and student Amanda Barrie; Dean David Gudelunas, College of Arts and Letters, and student Tucker Vermillion; Dean Frank Ghannadian, College of Business, and student Julia Calandra; and Dean Jack Geller, College of Social Sciences, Mathematics and Education, and student Alexandra Stinson.
"While much of our last year together has been impacted by world events outside our direct control, your UT experience should not, and is not, defined by just your last semester," Greenwood said. "Your time at The University of Tampa has made you smarter, stronger, more compassionate, more resilient and more globally aware than perhaps any class before you. I have been proud to work with you and with the talented faculty who have focused directly on your education in our classrooms, teaching and research laboratories, clinical settings, field sites, internships and online.
Gudelunas spoke to the relevancy of College of Arts degrees.
"Creativity, critical thinking and effective communication are not something we can do without. Now more than ever your studies in the arts and humanities have prepared you for this moment," Gudelunas said. "I believe that our graduates from the College of Arts and Letters who can think and express creativity will find not only success but happiness. To think about what hasn't existed already, about a world we have never experienced, about a commencement being held online, you need to be able to dream. You also need to be able to communicate those dreams, and you need to be an artist in the broadest most magical sense of the word."
There were 1,752 degree-seeking candidates — 1,519 bachelor's and 233 master's — honored in Saturday's ceremony. May 2020 graduates also may participate in UT's December commencement ceremony in person, if they wish. That ceremony will take place on Friday, Dec. 18, 2020, at the Expo Hall at the Florida State Fairgrounds.
"Seize. Persevere. Achieve. Radiate. Treasure. Accept. Nurture. Graduating Class of 2020, embody a SPARTAN in everything you do," said student speaker Julia Calandra. "Congratulations, and best of luck to all of you!"
---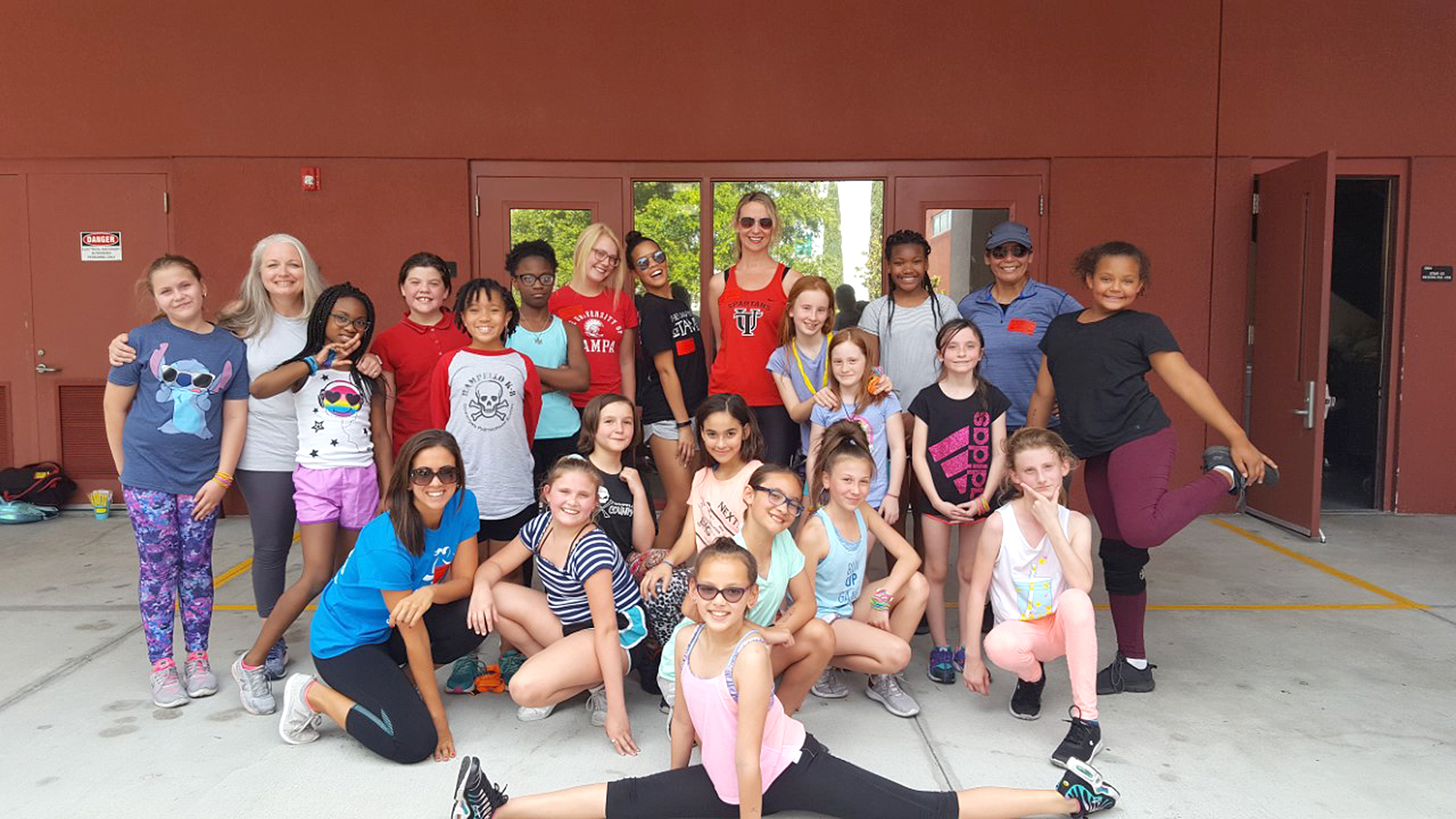 Summer internship for criminology major fuels her passion for women's empowerment.
From the lens of vigilantism, the teams looked at different parts of the larger puzzle examining predictors of terrorism in Burkina Faso.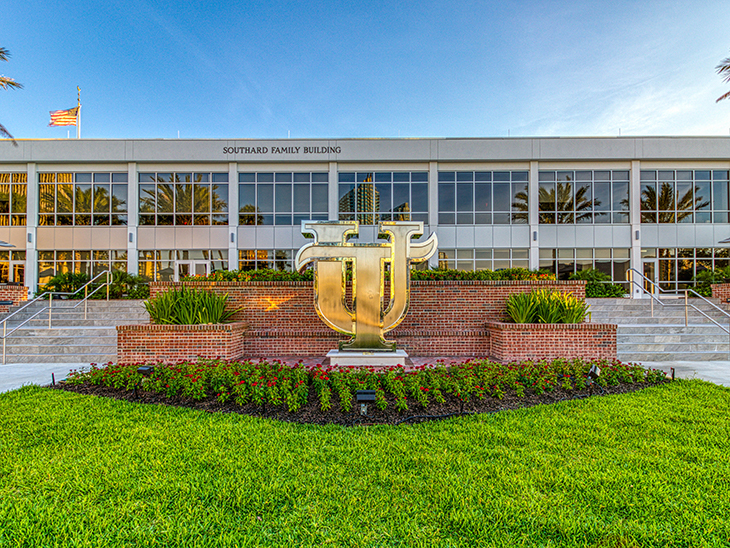 Decisions surrounding winter and spring sport competition will be made at a later date.