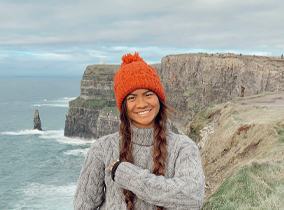 Sophomore Semester Abroad
Dublin, Ireland
Fall 2022
Want to see the world? Why wait until your junior or senior year to study abroad? Through UT's unique Sophomore Semester Abroad program, you can spend Fall 2022 studying in Ireland.
Partner universities closely mirror UT in terms of course offerings, student services, and campus atmosphere. Course credits will transfer to UT, allowing you to stay on track with your four-year plan. The program provides housing, meals, cultural excursions, and day-to-day support services, as well as international travel insurance.
Depart mid-August 2022 and return mid-December 2022
Complete four to six courses; credits transfer directly to UT
Space is limited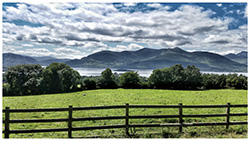 University College Dublin
This dynamic, modern university is located on a thriving suburban campus in Dublin. UT students live among local and international students in on-campus residence halls. A broad range of courses is offered, including those in life and physical sciences, humanities, social sciences, and business. The university's Quinn School of Business is AACSB accredited. Courses are also available for students studying health sciences and human performance.
UT students are provided with a public transportation pass to aid in their exploration of Dublin, an international center of commerce and culture. Students' experience is enriched through a variety of organized activities, including guest lectures, Irish music, and dance workshops, and trips to local museums and cathedrals.
The program also provides special excursions designed to deepen students' understanding of Irish history and culture. These include the following:
Cork and Blarney Castle (one night)
Galway, the Burren and the Cliffs of Moher (one night)
Glendalough and the Wicklow Mountains
Kilkenny
New Grange and the Hill of Tara
Cost
The program fee is $19,950* (Airfare is not included)
*Eligible students will receive a $5,000 UT Signature Abroad Scholarship
If accepted into the program, a nonrefundable $500 deposit is required to reserve your spot. This will be applied toward the program fee.
Other payment deadlines:
Federal financial aid may be applied toward tuition, fees, room/board, and program costs.
April 15: (a portion of the program fee, amount TBD)
May 15: (remainder of program fee, amount TBD)
Aug. 22: Tuition, fees, room and board due (Fall 2019 UT estimated average is $19,464)
Contact
Questions? Email abroad@ut.edu or call (813) 258-7431.
---