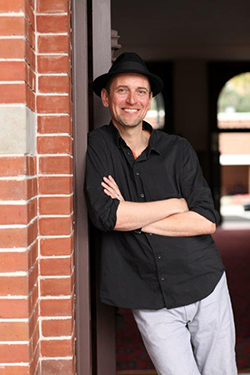 Stefan Kiesbye's stories, essays and reviews have appeared in the Wall Street Journal, Publishers Weekly and the Los Angeles Times, among others. His first book, Next Door Lived a Girl, won the Low Fidelity Press Novella Award, and has been translated into German, Dutch and Spanish. The German edition was a KrimiWelt Top Ten crime novel pick for four consecutive months.
Your House Is on Fire, Your Children All Gone was published by Penguin. It was a Top Ten pick of Oprah Magazine, made Entertainment Weekly's Must List, was named one of the best books of 2012 by Slate editor Dan Kois and has been optioned for television.
The LA Noir Fluchtpunkt Los Angeles was published in February 2015, and The Staked Plains, a novella set in the rural Southwest, was released that same year. The Gothic novel Knives, Forks, Scissors, Flames came out in October 2016, and German newspaper Die Welt commented that, "Kiesbye is the inventor of the modern German Gothic novel."
His new Cyberpunk-Noir Berlingeles is available from Revelore Press. 
---