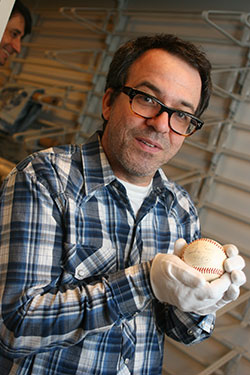 Joe Pernice is a musician, writer and actor.

He has written, produced, recorded and released 14 albums with his bands Pernice Brothers, Scud Mountain Boys and The New Mendicants. Pernice's music has been featured in many films, television shows and commercials. He also appeared on the hit television show Gilmore Girls, playing an even scruffier version of himself.

After leaving his record deal with Sub Pop Records, he and longtime partner Joyce Linehan launched Ashmont Records.

Pernice's last novel, It Feels So Good When I Stop, was published by Riverhead/Penguin Books. He also authored the novella Meat is Murder, which was published as part of Continuum Books 33 1/3 series. His book of poetry, Two Blind Pigeons, was published in 2001.

In 2013 he and Canadian playwright/screenwriter Adam Pettle created Juygraph Global Productions. Their first production, a Web series called McGillicutty is currently in post-production.

Born and raised outside of Boston, Pernice received his MFA in creative writing at the University of Massachusetts at Amherst. He is a permanent resident of Canada, and lives in Toronto with his wife and son.
---