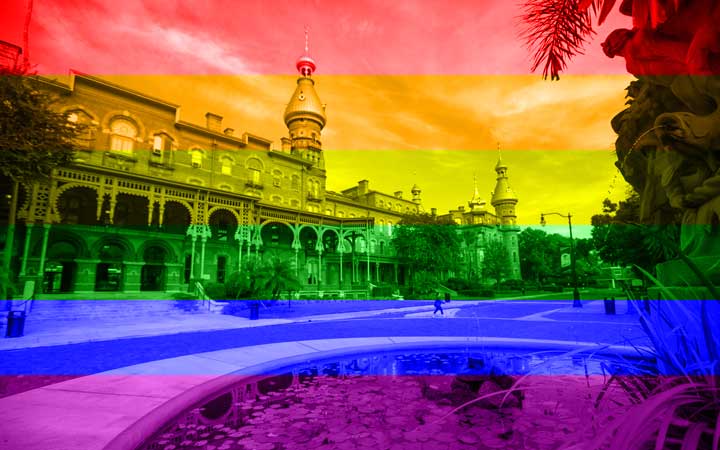 Welcome LGBTQI+ (Lesbian, Gay, Bi+, Transgender, Queer, Questioning, Intersex, +) members and allies! The University of Tampa takes pride in our students, staff, faculty and alumni; we want everyone, of all genders and sexualities, to feel safe, respected, included, valued, supported, encouraged and celebrated. This page provides resources for those in our Spartan community who are LGBTQI+ members and allies, and those who want to learn more.
Terminology Resources
To learn more about specific gender and sexual identities and associated terms, visit Glossary of Terms.
For those wanting to learn more about terminology and inclusive LGBTQI+ language, please also visit Guide to Terminology.
Respect and Values
The University of Tampa strives to foster a community where there is a shared appreciation for the value of diversity. UT is committed to serving as a place that meets the needs and learning expectations of all students. We hope for our students to enjoy an enriched college experience, possibilities that begin with our University's mission and values, and our commitment to diversity. Here is where you can learn more about diversity and diversity opportunities at UT.
On-Campus Resources
The University of Tampa recognizes that residential/housing comfortability and availability, legal changes to one's name and/or gender, one's preferred name on campus, specific information for some student-athletes, and policies regarding gender equity and Title IX (9) may be of significant importance for LGBTQIA+ members in feeling respected and valued.
There are several people on campus who are out and proud. They are here as a resource on-campus.
Celebration and Pride
UTampa Pride is our LGBTQIA+ organization. They create a space and make sure LGBTQIA+ voices are heard. They also host our annual campus Drag Show among other impactful programs. Connect with them on UTampa Pride Instagram and UTampa Pride Facebook.
Inclusion
Diversity and Inclusion Support
Office of Student Leadership and Engagement
De-stereotype Me Day
The Coming Out Chronicles
Drag Show
Wall of Oppression
Spartan Sustained Dialogue Retreat
Diversity Week
SafeZone Training — For more information, please email Tyler Hodges at thodges@ut.edu.
Learn more about the Diversity Annual Events.
Course Offerings
The University of Tampa offers an enriching curriculum for its students and includes course offerings where students may learn about gender and sexuality as phenomena, gender and sexually marginalized populations, and the historical, cumulative and ongoing concerns faced by those who have been marginalized on the basis of gender and/or sexuality. Go to the Course Catalog, select your year, and do search for Gender or Sexual Orientation.
Examples:
PHL 399
PSY 404
HIS 299
Safety and Safe Spaces
Affinity Groups
GENDER Inclusive Bathrooms On Campus:
Cass Gym
Jenkins
McKay
Morsani
Palm
Smiley
Straz
Sykes Chapel
Urso
Vaughn Center - Reeves Theater
UT Compliance
The University of Tampa is committed to providing a work and educational environment that is free from unlawful harassment and discrimination. The University maintains a strict policy prohibiting any kind of harassment or discrimination on the basis of sex, race, color, religion, national origin, disability, gender identity or expression, sexual orientation, age, military or veteran status, marital status, genetic information or any other protected characteristic. Likewise, ethnic, religious, age-related, disability, gender or sexual orientation considerations will not be used as the basis for academic or employment decisions affecting any student, faculty member or employee. Read more on UT compliance.
Counseling Services provides support groups when needed in addition to regular counseling sessions.
Support and Encouragement
Adeline (Addie) Carothers (she/her/hers)
As the associate director of wellness, Addie Carothers oversees Live Well UT, the health and wellness promotion and educational program that includes initiatives that focus on alcohol and other drugs, sustainability, physical health and nutrition, mental health, diversity, sexual health, healthy relationships and financial wellness. Carothers also serves on the Faculty and Staff Wellness Committee, the Resource Team for Faith Values and Spirituality, the Residential Curriculum Committee, Tobacco Free Task Force and Healthy Spartans 2020. She has been trained in mental health first aid, Green Dot, suicide prevention, sustained dialogue moderating (social justice program), Safe Zone and as a Title IX (9) investigator.
Ana Maia (she/her/hers)
Thanks for supporting or wanting to learn more about our LGBTQ+ community here at UT. I am happy to talk about my sexual identity as fluid/queer, as well as the intersection of this identity with other identities (i.e. race, gender and/or gender expression). I currently work in the Office of Student Leadership and Engagement with student leadership programs and assessments. If you are exploring your LGBTQ+ identity or just want to chat, I am here to listen.
Haydn Rubelmann (he/him/his)
As a member of the LGBTQ community, I am a cis-gendered male married to a wonderful husband since July 3, 2013 – seven days after DOMA was overturned. Our international relationship spans over 15 years and was relieved when we could legally be together here in the US. Not only am I a member and advocate of the LGBTQ community, I am also a scientist. Having degrees in chemistry, biology and molecular biology, my passion lies in learning about the natural world. My research interests are primarily in microbial communities of unique environments and rare metabolic pathways in prokaryotes.
Our Community Resources
National Resources
Transgender Transition Information and Policies
---