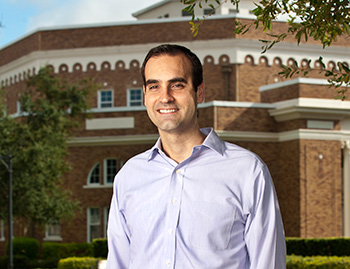 Personal Touches
Going into the summer before his senior year at UT, Travis Milks '00 was on the hunt for an internship in the finance field. At the same time, Stonehenge Capital had just opened an office in Tampa and was looking for promising candidates for an internship. A contact in the Sykes College of Business passed Milks' resume on to Stonehenge and the rest, as they say, is history.
"It was a pivotal point for me in terms of career progression," said Milks, who is now one of three partners at Tampa-based Stonehenge Growth Equity Partners. "That internship enabled me to get the job I wanted after college and to achieve several important career objectives."
Stonehenge invests in rapidly growing technology businesses located in Florida and the Southeast.
"We work with entrepreneurs who are pursuing their dreams of building great companies. Also, we work with technology, which is changing every day, so every day is different," said Milks. "I'm actually in a job today where I use, on a day-to-day basis, the things I was learning in class at UT."
His journey to UT began when his parents decided to move from Rochester, NY, to Florida after his senior year of high school. In order to stay near his family, Milks began investigating colleges and universities in the Southeast where he could pursue his interest in finance.
A cold call from an admissions counselor at UT led to a 45-minute conversation with the dean of the College of Business. It meant a lot to Milks to have the dean reach out to him personally. Impressed, he added UT to his list of schools to visit and eventually decided UT was the place for him.
During his time at UT, Milks said he always felt he was part of a very tightly knit, supportive community.
"We had access to the same resources as those at any top school in the country, but a greater ability to actually leverage those resources, whether it was professors or involvement in clubs," said Milks. As a student Milks was involved in several student organizations. He was president of the Sigma Phi Epsilon fraternity and helped to establish the Honors Program's Honors Council (and then served as vice president).
Through being involved on campus, Milks observed a culture of support and encouragement.
"Whether it was someone who headed up student activities or a professor in the business school, or someone in Career Services, there was a broad sense of support and encouragement to help me succeed," he said. "I felt like as long as you're willing to put in the time and effort, there are so many things UT offers that people can benefit from."
It's a feeling Milks still has about UT, and one of the reasons he started to reconnect with the University in recent years. Milks serves on the Sykes College of Business Advisory Council, the UT Alumni Association Board of Directors, the Career Services Employer Advisory Board, and occasionally is a guest lecturer in classes. He is also a regular contributor to the University's Annual Fund.
Milks is thrilled with the growth of the University over the last 15 years, noting that even though the community has grown exponentially, the University has been able to preserve things, such as the personal touch he received in that call from the dean, that make UT special.
"I feel like UT provided a lot for me. The University helped shape me personally and helped propel my career," said Milks. "As alumni we should give back whether it's in the form of time or money so that students that are here today can have some of those same opportunities and benefits we were provided."
---