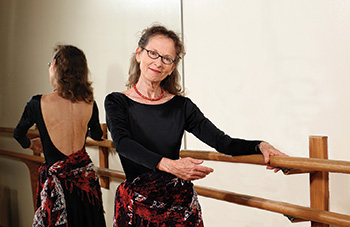 Dance for Every Body
With the minarets aglow, a crowd anxiously waited for the next performers in UT's Dance Happening to take the stage on the verandah of Plant Hall. This bi-annual event, completely student-run from auditions to rehearsals, is the brainchild of Professor Susan Taylor Lennon.
Lennon has been the face of UT's dance program for nearly four decades. She has grown the program from offering just a few classes to the diverse array of coursework and community involvement that make up the dance major at UT today.
"I began here in 1976 as an adjunct professor working alongside Anzia Arsenault, my former teacher from the Tampa Ballet Company," Lennon said. "Through persistence and passion the program slowly grew, and in 1990 I became UT's first full-time dance professor."
Lennon's vision for the dance program has always been to give students a greater appreciation of the community and a better sense of self-confidence. She works hard to include students of all majors and involve departments campus-wide.
"I lean on our community network to offer diverse experiences," Lennon said. "I want the students to experience different abilities and talents. I want to open their eyes to the possibilities around them and see different ways to incorporate all types of art forms into everyday life."
Dance coursework includes technique, theory, history and pedagogy classes, as well as visits out into the community to apply lessons learned in the classroom. This semester, students have visited Pyramid, a local arts center for developmentally disabled adults; Tampa General Hospital's rehab center for children with brain injuries; and classes with Forever Moving, a dance company for older adults.
"It never ceases to amaze me to watch our students lead a class in the community and see a person that participates in no other activities gravitate to a simple dance or gesture to be a part of the group," Lennon said with a smile. "Even basic movements can inspire others."
Additionally, many guest artists have come to campus to work with our students, such as art therapist Heather Spooner '01, director of Arts for Health Tampa Bay. In March 2014, UT's dance program will host the Urban Bush Women for a week-long community engagement residency. Based in Brooklyn, N.Y., Urban Bush Women uses art to address social issues and encourage civic engagement.
"This partnership speaks to the heart of our program and will involve numerous students as well as an intergenerational, diverse community population," said Lennon. "We are partnering with other offices on campus to bring students of all majors together. This program will offer something very special and unique to our students and to our extended community."
UT's dance program puts on five productions annually, and unlike at other universities, students are not charged for their costumes or other production expenses. Annual donations to the dance program help to provide diverse experiences and support programming, like dance, for all students.
"Donations to the UT Dance Program are critical to our success," said Lennon. "In fact, donations are what help us to do so much."
Graduates of UT's dance program have gone on to a diverse range of careers. Some have become professional dancers, others have opened their own studios, become dance therapists and even college professors. UT's program is designed to help students align their passions and find a way to involve themselves in the community.
"My college dance professor used to say the same words before every performance," said Lennon. "I now say those same words to my students. But really, these wise words can be applied to any part of someone's life. It is simply: 'Do it with love.'"
---