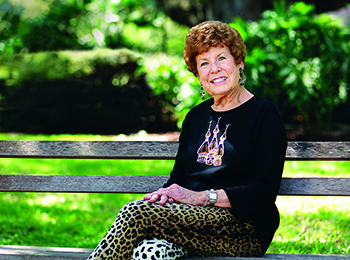 Major:
Business Administration
Profession:
Retired teacher, Hillsborough County Schools
Q: Where were you born and raised?
A: In Tampa. I graduated from Plant High School in 1953. I was ready to attend Florida State University when financial reality hit, and I made other plans. I obtained a position with the county water department where I worked to earn my expenses for my first year at UT.
Q: Did you live on campus?
A: I lived at home all four years with my wonderful parents and five siblings ranging in age from two to 21.
Q: What was your major at UT?
A: Business administration. There were only three females in that department. Business law and marketing were my favorite classes. I feel like I benefit from those classes every day. However, I think my timing was off for a business career — employers were interested only in how fast I could type (not very).
Q: Did you have a favorite instructor?
A: Ralph E. Worthington. He was absolutely wonderful as were most of my teachers at UT. He taught business administration and really connected with his students.
Q: Did you participate in extracurricular activities while attending UT?
A: Even though I couldn't participate in afternoon activities because I was working, I managed to find ways to be involved. I loved going to dances, parades, football and basketball games. I was head cheerleader and an Alpha Chi Omega.
Q: Your husband, Al, is a UT graduate. Did you meet him at UT?
A: We were at UT at the same time for two years, but we didn't know each other. Years after we graduated, mutual friends from UT, Ken and Elaine (Mickler) Belliveau, got us together.
Q: How did UT prepare you for your career?
A: Everything I learned at UT translated in the real world. Although I became a teacher, I believe my business acumen really helped in organizing and managing my life.
Q: How do you stay connected to UT?
A: I attend a lot of UT events. I love the concerts in the chapel. I'm involved in the Decade of the '50s and the Ladies of the '50s, and I was a member of the UT National Alumni Board.
Q: As an alumna, volunteer and donor, why do you think it's important to give back to UT?
A: Al and I are extremely grateful for our years at UT and for the wonderful educational opportunities. As a UT football player, Al appreciated that the coaching staff provided wonderful meals, and Al says that Coach Marcelino Huerta was the finest!
Q: How do you view The University of Tampa today?
A: The progress made by UT is hard to believe even when you see it. I am so proud of everything about UT, and I want everyone to see and appreciate it!
---