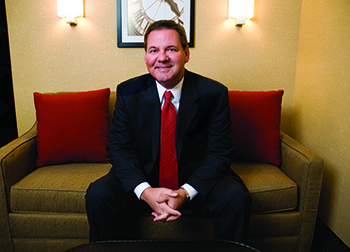 Major:
Accounting
Current Profession:
Founder and president of Horizon Properties
Q: What do you like best about UT?
A: I like the fact that UT has been very progressive with its growth and has had the required visionary leadership needed to establish the University as a leader in many fields. The campus environment, as well as the curriculum offering, has been exemplary in all respects.
Q: Do you have a favorite place on campus?
A: As a student my favorite place on campus was always the lobby of Plant Hall. What a great environment for students to congregate and interact with each other on a daily basis.
Q: What were you involved in at UT?
A: I was very involved in Greek life and became the president of the Tau Kappa Epsilon chapter and president of the Inter Fraternity Council. Being a member of Tau Kappa Epsilon gave me the opportunity to be active in many UT events as well as support charitable causes, but most importantly, it gave me the opportunity to establish life-long friendships.
Being a member of the golf team was also significant, as it was great to represent the school athletically, and my captain and teammate, Bob Ford, has remained one of my dearest friends throughout my life.
Q: Most memorable professor?
A: My most memorable professor had to be Alvan McFadyen. He had such a Southern way about him and just loved what he was doing. He was so engaging with the students.
Q: How did UT prepare you for what you do now?
A: Being at UT was just the opportunity I needed as a young person to find out what was needed in life to be successful. The setting of a smaller school was the atmosphere I needed to be engaged as a student. Also, I liked the fact that many of my accounting classes were taught by professors who also worked in business, so there was a different perspective brought to the classroom that I thought was effective.
Q: How do you continue to stay connected to UT?
A: I have tried to be involved with UT by staying in contact with the administrators of the school and understanding the positive direction in which the University is headed. One of the most enjoyable moments is receiving and reading all the publications sent to me as an alumnus and friend of UT. It's always exciting to see how much UT has changed throughout the years and the impact UT is having on the region and the nation.
Q: Why do you support UT?
A: Supporting UT is just an easy thing to do! I have such fond memories of UT, and when I think of the people that have been life-long friends and the success that I have been fortunate enough to have, and knowing that it all started at UT, well how could you not want to make an impact for the students who are following you by making UT a greater institution for them?
---