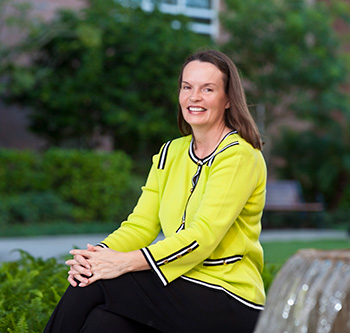 Profession: CEO of Xcira Inc., a technology-based infrastructure supplier for the asset disposition industry
UT Board of Trustees member
What do you like best about UT?
I've had the chance to meet several deans and faculty members. Their spirit and their excitement is contagious. Match that spirit with the students' energy to learn and grow, and it's a great combination. UT has done a beautiful job with interlacing these two dynamics.
Do you have a favorite place on campus?
Anywhere in front of students. I love speaking with students and find that growing and learning are best experienced through observation. It's a two-way street because any time that I get to speak in the classroom and interact with the students, it also gives me a chance to understand and learn from them.
What are you involved in at UT?
Awhile back, I wanted to build a private high school for those living in the Brandon area. Through that project, I met Rusty Rustogi, chair and Dana professor of marketing, and ultimately joined the Sykes College of Business advisory council. While serving on that board, I found out more about the specialness of this place. Learning and spending time with others that believe in something bigger than ourselves — like the power of education — was eye-opening. When the timing worked out in 2014, I joined the board of trustees.
Why did you decide to get involved with UT?
While on the College of Business board, I enjoyed the specialized agenda. It was rewarding to meet and share with students and fellow business leaders. The intimacy of the group allowed us to focus on idea sharing and building relationships. I also have to say that Ron (Vaughn) was a big part of getting involved for me. His charisma and passion for the University shines through every project he works on. When someone has that level of passion, it brings out the best in us to jump in and give back.
Why do you support UT?
UT is on a forward trajectory. It's exhilarating to watch this institution grow and change. As someone in the business community, I've realized that aside from what you learn, it's the connections you make that prove to be worthwhile. The connectedness that students, faculty and those in the community share with UT is powerful.
Why do you think it's important for others to support UT?
The community at UT provides an infusion of diversity, and freshness of youth and trends. I believe it's so critical for those, not only in the business community but all involved, to embrace this community and nurture it. From it, comes great ideas and dynamic people and programs — so it's only right to reciprocate. It's such an advantage for the business community to come together for a common good and see that working together provides students with opportunities and a strong, connected faculty/staff. It is a win-win for everyone.
---