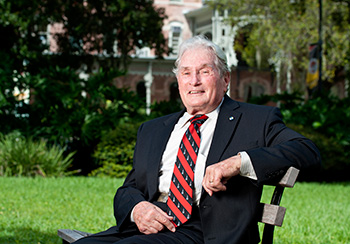 Back Where it all Started
Though he is 90, most of us could only wish for the enthusiasm and energy of John Tinny '48.
Tinny has just published The Briar Patch, a spy novella that draws on his years as a Foreign Service officer for the U.S. Department of State. He spends his days promoting the book, making appearances and, as often as possible, visiting his beloved University of Tampa to reminisce and marvel at the new buildings mushrooming around Plant Hall.
"In 1943, all classes were in Plant Hall as it was the only building of any consequence. Now to step out the door is to enter a new academic world. The growth is truly amazing," he said.
Behind his intense brown eyes is the hint of a rogue and a life well-lived. Tinny's aura of adventure follows him like a specter hiding around every corner.
"My life has been exciting, and I owe it all to pure dumb luck," he said.
In 1942, Tinny and three friends and fellow high school seniors were anxious to apply for the Navy Reserve Officer Training Corps program (V-1), but couldn't because applicants were required to be college students. Then they heard that UT would accept their high number of high school credits for enrollment.
They enrolled at UT in February 1943. Receipts in hand, they marched across Lafayette Street (now Kennedy Boulevard) to the Navy recruiting office and enrolled in the V-1 program (later renumbered V-12). Until ordered to active duty, they commuted between classes at the University and Hillsborough High School. All in all Tinny completed a full year at UT. (He eventually finished his undergraduate degree elsewhere and earned two master's degrees in political science and library science.)
While in the U.S. in 1950, he met and married Harriette Josephine Hicks, who served in the Navy WAVEs (Women Accepted for Volunteer Emergency Service). Both Tinny and his wife were descendants of Florida pioneers and Revolutionary War patriots. Josephine Tinny was active in the Daughters of the American Revolution for 60 years until her death in 2014, and John Tinny is a 50-year member of the Sons of the American Revolution.
His naval career eventually led to a career with the U.S. Department of State Foreign Service beginning in 1955, and he was posted to embassies in Cairo and Beirut, and to consulates in Honduras, Yemen and finally Libya, where he was the American consul.
Tinny's career catapulted him into the world of spies and espionage. In the Middle East, Tinny found himself embroiled in the growing Arab revolution. During his time as consul in Libya, Egyptian commandos infiltrated the country and bombed the Consular Residence. His three sons were at home and narrowly escaped being killed.
After leaving the Foreign Service in 1973, Tinny worked for Occidental Petroleum Corp. and Conoco Inc. oil company, then as a librarian from 1986 to 2008.
Although Tinny attended several universities to complete his education, his heart belongs to UT.
"UT has a definite sophistication and unique environment of learning," said Tinny. "My early days at UT fostered in me an attitude that all things are possible. That attitude has stayed with me all of my life."
Tinny recently created an endowed scholarship at UT, the H. Josephine Tinny Pioneer Memorial Endowed Scholarship, to honor his late wife of 63 years. In addition, he decided to add to his scholarship through his estate.
"Josephine was born in Tampa and shared my enthusiasm for UT, although she didn't study there," said Tinny. "I hope for many years to come students will benefit from her scholarship."
---