UT Community Expectations
As we continue to navigate the COVID-19 situation, UT's top priority remains the health and well-being of all and doing our part every day to reduce the spread of the virus.
1. Practice daily health self-assessment.
The entire UT community is expected to do daily symptom checks, including taking your temperature and checking your symptoms. Do not come to class or work if you feel ill or are running a fever of 100.4°F or higher. H ands-free temperature screening kiosks are available in Morsani Hall, Daly Innovation and Collaboration Building, Vaughn Center (near the dining areas), Plant Hall, Fitness and Recreation Center, Macdonald-Kelce Library and the Martinez Athletics Center.
Read the daily symptom checker (PDF) for additional details.
2. Faculty, staff, students, and visitors, including vendors, are required to wear face masks/coverings in all common areas of campus facilities, including classrooms. Face masks/coverings are also required in outdoor campus areas where physical distancing is not possible.
Wearing a cloth face covering CORRECTLY can help prevent the spread of COVID-19 to others. For more information on cloth face coverings visit the CDC website. Two UT masks will be available per student.
Read additional details: A Message about Face Coverings/Masks from the Spartan Shield Task Force (PDF).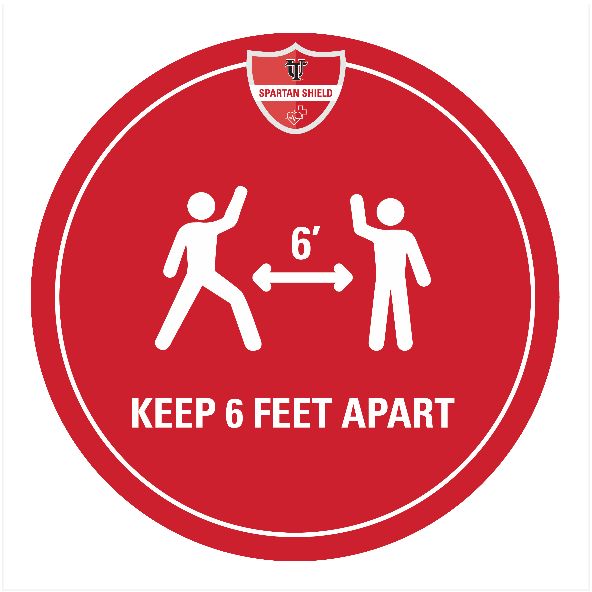 3. Practice social and physical distancing by staying six feet apart and do not gather in groups.
Consider using Zoom, phone conferencing or email when you can, even if people are in the same building. If you need to meet, be sure to keep at least six feet between each other and wear a face covering should you be closer than six feet. Keep unavoidable in-person meetings short, in a large meeting room where distancing can be kept; avoid shaking hands and other physical contact.
4. Wash your hands frequently and properly.
Wash your hands with soap and water, vigorously rubbing together front and back for 20 seconds, and turn off the faucet with paper towel. If you are unable to wash your hands, use alcohol-based hand sanitizers, covering the full surface of your hands and rubbing hands until they are dry. If you choose to wear gloves, find out when and when not to wear gloves (video).
---
---
Spartan Shield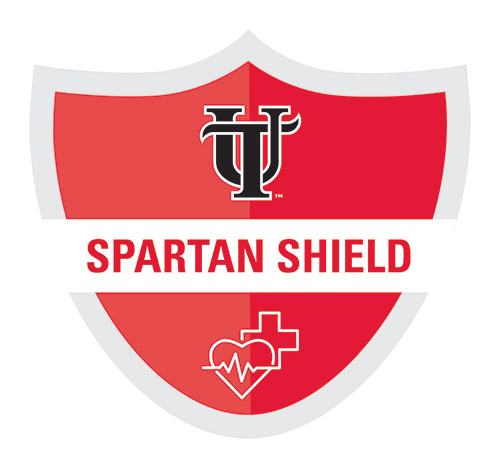 Spartan Shield is a UT health safety initiative that offers guidance to all members and guests of the University community in the era of COVID-19. Learn about the Spartan Shield Health Safety Plan.

UT campus facilities and spaces will include Campus Signage that should be followed by UT community members and visitors at all times. View additional COVID-19 brochures, presentations, videos and student-created posters.
---
How is UT monitoring the COVID-19 outbreak? What do I do if I suspect someone has COVID-19? View answers to these questions and more.
COVID-19 FAQ
---
---