UT Community Expectations
UT's top priority remains the health and well-being of all and doing our part every day to reduce the spread of the COVID-19 virus. While COVID-19 remains a concern, the universal availability of highly effective vaccinations means UT is able to continue face-to-face delivery of instruction in Fall 2021, with no exceptions for COVID-related reasons. As such, the Spartan Shield Health Safety Plan has been updated and includes the following:
The University will not require vaccination nor proof of vaccination, as per Florida Senate Bill 2006. However, certain activities such as students working in clinical placements may warrant vaccines.
Effective Aug. 16, 2021, and until further notice, all UT community members and their guests are required to wear face masks while indoors on campus, regardless of vaccination status. Exceptions are permitted when eating, participation in athletic practices and contests, and instruction in selected fine arts. Residential students and their guests are to wear masks in public areas of residence halls but do not need to do so in private rooms. Detailed instructions on how best to navigate these activities will be provided by the respective areas, including Dining Services, Athletics, Fitness and Recreation Center, Residence Life, and the College of Arts and Letters. In addition, instructors and podium presenters who are vaccinated and physically distanced may remove their masks for the duration of their presentation.
Physical distancing limits will now be lifted.
Daily COVID-19 health self-assessments will continue to be encouraged. Those exhibiting COVID-19 symptoms should seek medical care.
Quarantining will still be employed in order to control the transmission of COVID-19.
Cleaning and sanitization practices will continue.
This plan update is guided by local and state regulations and the Florida and Hillsborough County Health Departments. A variety of guidance was reviewed from various sources including, but not limited to, the Centers for Disease Control and Prevention (CDC), the American College Health Association (ACHA), the National Collegiate Athletic Association (NCAA) and NIRSA: Leaders in Collegiate Recreation, among others.
While much of the original plan restrictions have been loosened, we will continue to monitor patterns, and in the event of an outbreak, we will reconsider our practices and may apply new restrictions.
---
---
Spartan Shield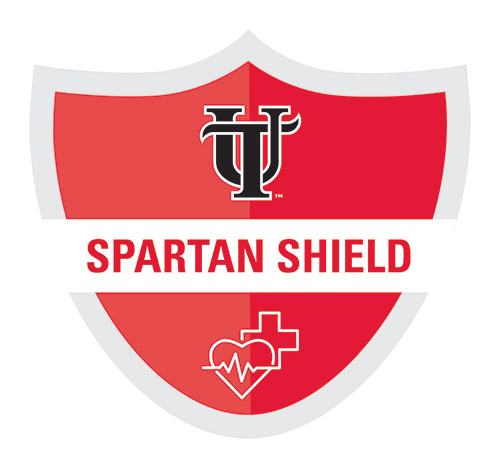 Spartan Shield is a UT health safety initiative that offers guidance to all members and guests of the University community in the era of COVID-19. The Spartan Shield Health Safety Plan was updated and is effective as of Aug. 11, 2021.


---
How is UT monitoring the COVID-19 pandemic? Do I have to wear a mask? View answers to these questions and more.
---