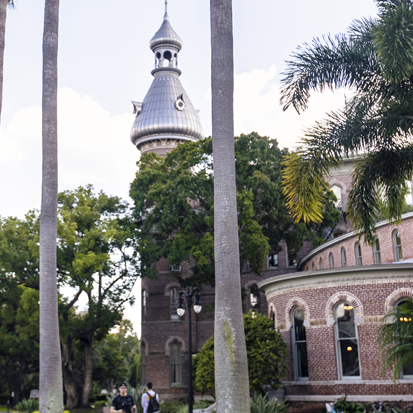 The sisters of Sigma Delta Tau are an authentic group of unique individuals that come together to form an unbreakable bond of sisterhood. We not only share a special love for SDT, but we also remain passionate towards our school, our studies and our community involvement. The sisters of Sigma Delta Tau are an enthusiastic group of women that are widely spread across the campus, and involved in many other campus activities, such as the Honors Program, Student Government, the Orientation Team, the Dance Program, Sports teams, UT Panhellenic Association and many more. We accomplish all of these attributes by coming together as a sisterhood through our leadership, dedication, and sincerity to form a genuine love that lasts a lifetime.
Sigma Delta Tau, a National woman's social sorority founded in 1917 at Cornell University, has over 100 chartered, collegiate chapters, as well as more than 60,000 alumnae members. It was introduced to the University of Tampa campus in 1990 and continues to uphold their traditions and values to this day.
The sisters of Sigma Delta Tau at The University of Tampa Gamma Pi Chapter strive to make our community a better place. We annually participate in the Breast Cancer Walk and Relay for Life. We also frequently volunteer for the Hillsborough County Education Foundation, Humane Society, participate in Beach Clean Ups, and serve meals at Metropolitan Ministries, and provide teaching and tutoring in an after- school care program located in Seminole Heights.
Nationally, the Sigma Delta Tau Philanthropies are The Sigma Delta Tau Foundation, Jewish Women International and Prevent Child Abuse America (PCAA). Each of these philanthropies holds an important place within our values. The Sigma Delta Tau Foundation provides tuition and membership to sisters across America who may not be able to afford it. Jewish Women International is especially important to us as we were founded by a group of Jewish women who sought to create a community that was inclusive of all women. Finally Prevent Child Abuse of America is a foundation that creates and provides shelter and food for women and children who have fallen victim to abuse. Though we may not always be able to physically see those that are benefiting from our donation, we strive to do our best to give all of these people a better life.