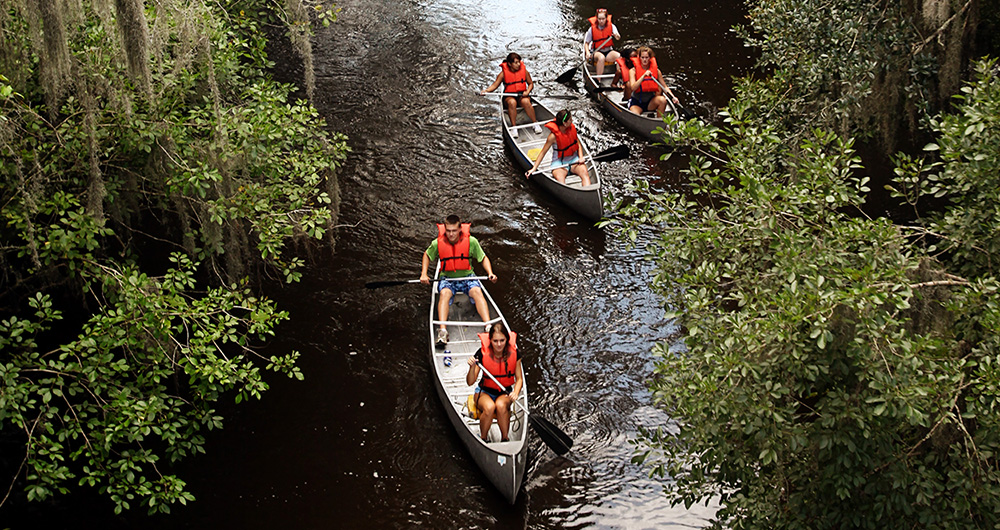 Educating Leaders in Today's Environment (ELITE)
Committed to the skills, values and practices of effective leadership, the University invites all interested incoming undergraduate students to apply for an exciting leadership program: ELITE (Educating Leaders In Today's Environment). This highly interactive program serves as an entry point to leadership programs and opportunities at UT. ELITE is a retreat scheduled before orientation for the fall semester. There is a $150 non-refundable fee associated with those who are accepted into the program. Payment is due prior to attending the retreat. A limited number of need-based scholarships are available.
There are two different ELITE programs offered each fall: ELITE Classic and ELITE Outdoors.
---
ELITE Classic
Our traditional retreat focuses on introducing students to the social change model of leadership development and Spartan Ready® Competencies. Participants are introduced to the seven values of the model through highly interactive group activities, discussion and personal reflection. The retreat is held at the DaySpring Conference Center in Ellenton, FL.
---
ELITE Outdoors
This retreat introduces participants to various roles, skills, Spartan Ready® competencies and behaviors apparent in team leadership. Roughing it and intentionally designed outdoor simulations provide the backdrop for learning, discussion and personal reflection. The retreat is held at Cedarkirk in Lithia, FL.
Applications are open until June 1, 2021: ELITE 2021 Application
Acceptance Notifications: June 10
Payment/ Contracts Due Date: June 17
---
The ELITE program strives to:
Help students understand the basic values of leadership
Teach Spartan Ready® leadership skills and how to apply them in personal and organizational settings
Connect new students with leadership mentors on campus
Stimulate interest in the campus community and encourage active participation
Broaden the base of student leadership on campus
Main Schedule
Wednesday, Aug. 25: ELITE Participant move-in to residence halls and Kick-off
Thursday/ Friday, Aug. 26 and 27: ELITE main programming
(There will be a Parent Q&A session, virtually or in-person, depending on COVID restrictions.)
Dress Code
Participants should dress as if they are participating in outdoor activities or a summer camp. It is Florida in August. It will be hot. Clothing suggestions are: T-shirts, shorts, cargo pants, sneakers/ joggers/ tennis shoes, tank tops, etc. You must have close-toed shoes!
Community Service Project
During the ELITE program, we work with a local organization to donate items for our service project for the local homeless population in Tampa. We ask that participants bring donation supplies for the service project with them to the check-in.
Items must be new. We accept:
Shampoo and conditioner (travel size)
Toothbrushes
Toothpaste (travel size)
Deodorant (travel size)
Shaving cream for men and women (travel size)
Soap (travel size)
Razors
Combs and brushes
Dental floss
Mouthwash (travel size)
Bug spray
Sunscreen
Feminine hygiene products, ETC.
Students needing any accommodations, please connect to the Student Disability Services Office and request for accommodations.
Contact Information
For more information on UT leadership programs and opportunities, please contact the Office of Student Leadership and Engagement located in the Vaughn Center, Room 215 at (813) 253-6233 or studentengagement@ut.edu.
ATTENTION: Due to COVID- 19 ALL activities will be updated based upon current University of Tampa Policies at the time.
---