Published: April 05, 2021
Champa Bay!
This year's historic Super Bowl LV wasn't just a great excuse to celebrate our victorious home team — it provided UT students and alumni a behind-the-scenes look at how the nation's largest sporting event comes together.
By Jessica Blatt Press
Illustrations by Ryan Olbrysh
Photography by Bob Thompson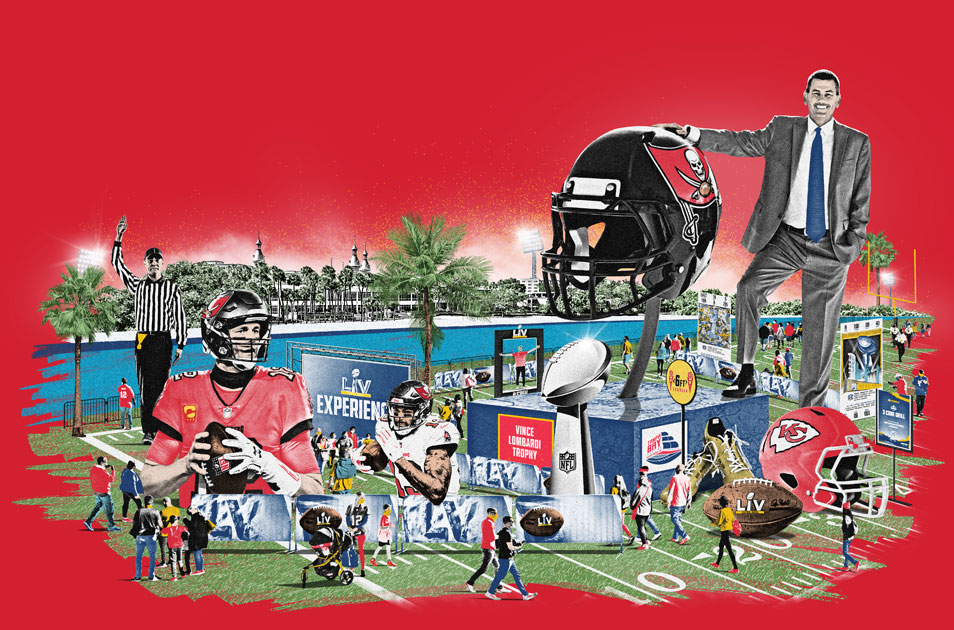 Mike Flynn, professor of instruction I, sport management, helped coordinate Super Bowl internships for Spartans.
Pulling off Super Bowl LV, as well as dozens of action-packed "fan experience" events in the nine days leading up to it — in the middle of a pandemic, no less — took the coordination of thousands. During the first week of February, people from around the world descended upon Tampa for football-related fun at a handful of locations in the downtown area near campus. Lucky fans got the chance to see the Lombardi trophy up close, sprint a 40-yard dash and snap Instagram-worthy photos next to a giant helmet of their favorite National Football League team.
Keeping fans safe, getting them to the right places and providing them with up-to-the-minute information was no small feat, but the efforts were successful, thanks in part to many students and alumni from UT's sport management program who volunteered for the Tampa Bay Super Bowl LV Host Committee in a wide range of meaningful roles.
We really focus on balancing 'learning by thinking' with 'learning by doing."
— Mike Flynn, Professor Of Instruction I, Sport Management, and Internship Coordinator
The opportunity to get firsthand experience surrounding a game that generates billions of dollars and millions of TV viewers was not due to luck. It's taken years of cultivating relationships by UT's sport management faculty.
REAL-WORLD EXPERIENCE
Jay Jisha, chair of the Department of Sport Management, remembers the program in its infancy, when he started at UT 18 years ago. It has its roots in the '90s, when it began as merely a concentration. Shortly after, it became a major, and by Spring 2011, it was its own department. The number of students majoring in sport management has grown from 25 at its inception to 357 today, and it's now the 10th most popular undergraduate major (out of about 70). A minor is also offered.
Through it all, the program's special sauce has always been its emphasis on real-world learning: internships, volunteering and jobs, with a culminating 12 credit-hour internship (480 work hours) during senior year.
"We really focus on balancing 'learning by thinking' with 'learning by doing,'" says Mike Flynn, professor of instruction I, sport management, and internship coordinator. Sure, all semester long, students will study the Super Bowl in class — the finances, the marketing, the legal aspects and sales. But to be a part of that actual planning offers learning opportunities that no classroom could ever provide. "We don't want to be animatronic. 'Look at the PowerPoint and let's talk theory!' That's not why students come here," Flynn says.
It doesn't hurt that Tampa Bay is home to several professional sports teams and often plays host to many major sporting events, so there are plenty of volunteering opportunities for sport management majors with the Tampa Bay Buccaneers, Tampa Bay Lightning, Tampa Bay Rays, Tampa Bay Rowdies, NHL All-Star Game, College Football National Championship, Outback Bowl, NCAA Women's Final Four, Spring Training for five Major League Baseball teams and five Minor League Baseball teams, United Soccer League games, Valspar Golf Championship, IRONMAN, Special Olympics, NCAA Frozen Four, Firestone Grand Prix of St. Petersburg and WWE's WrestleMania.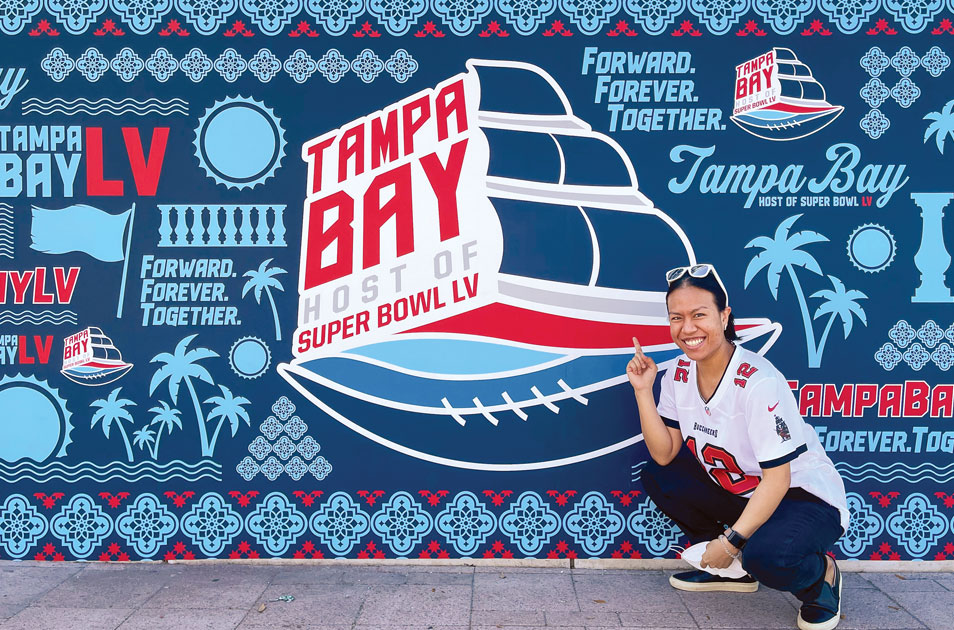 Patchanit Sriviroch '19 was part of the design team that created the Tampa Bay Super Bowl LV Host Committee logo.
Photograph: Courtesy of Patchanit Sriviroch '19

LESSONS IN A LOGO
"I kind of live and breathe design," says alumna Patchanit Sriviroch '19. "I always find myself looking for inspiration."
Sriviroch, who majored in graphic design at UT, brought that passion to her internship at Tampa advertising agency Schifino Lee between the summer of her junior and senior years — and it ended up catapulting her to the small team that created the logo for the Tampa Bay Super Bowl LV Host Committee.
"It was my very first day at the agency, and my boss handed me a brief," she recalls. "'Want to join this project?' he asked. I couldn't believe it was for real."
She immediately got to work with on-the-ground research: "I went downtown, asking people, 'When you think about Tampa, what's the first thing that comes to mind?' Most said Gasparilla."
So she created a logo based on the iconic Gasparilla pirate ship and presented it to her boss, Matt Kannenberg, who was then creative director at Schifino Lee. To her surprise, he wanted to pitch it to the client, along with just two other ideas.
The next thing Sriviroch knew, she was pitching to a room full of creative professionals who greenlit the premise of her idea, requesting some changes. So Sriviroch, a native of Thailand, started revising. For example, the client requested references to the number 5, given that this was Super Bowl LV (55), so she changed the number of sails from three to five. The bottom of the boat, which resembles a football, also has five laces.
Throughout the process, Sriviroch had to keep her work confidential. "It was like a CIA movie!" she says. "I'd have to step out of class if my boss called because I couldn't open my laptop if anyone else was around." Once the big reveal came — a press release last September — Sriviroch's former classmates and professors offered their congratulations.
"It's still surreal to me," says Sriviroch, who dreams of one day having her own agency, perhaps back in Thailand. "Any time I doubted myself, my boss would say 'Believe in yourself. You have potential. Just put 100% into your work.' So, I just worked my hardest on it, and it paid off."

Photograph: Bob Thompson

IN THE MIDDLE OF IT ALL
Leading up to the big game, Henry Yoho '21, of Plant City, FL, relished getting the chance to work for four days at the Social Media Command Center (SMCC). Each day, he'd head to the 34th floor of One Tampa City Center downtown (the PNC Bank building). At the start of each shift, five to eight students would sort through all mentions of Super Bowl LV across Instagram, Facebook and Twitter, and then prioritize answering questions.
"People were asking about hours, things to do at the events, when fireworks were going to be and things like that. Many of the questions were regarding the NFL OnePass app, which was necessary to enter all Super Bowl Experience events in order to manage the crowds," says Yoho.
"It made for some tiring and long days, but it was so worth it — and I would do it a thousand times over!"
— Henry Yoho '21
When responding to questions, students relied on a mix of pre-created templates, as well as on-the-fly thinking and talking with their supervisors, who were marketers with the Visit Tampa Bay tourism organization. "It made for some tiring and long days," says Yoho, who hopes to pursue a career in sports-related communications and media. "But it was so worth it — and I would do it a thousand times over!"
After answering questions, students would leave the SMCC in small groups to capture photos and videos of various Super Bowl festivities to post on the Host Committee's social media platforms. One spectacle they captured was the five-minute fireworks show that took place 16 times over the course of several nights on Tampa's iconic Gasparilla ship. After all, what says "Arggghhhh you ready for some football?" more than that?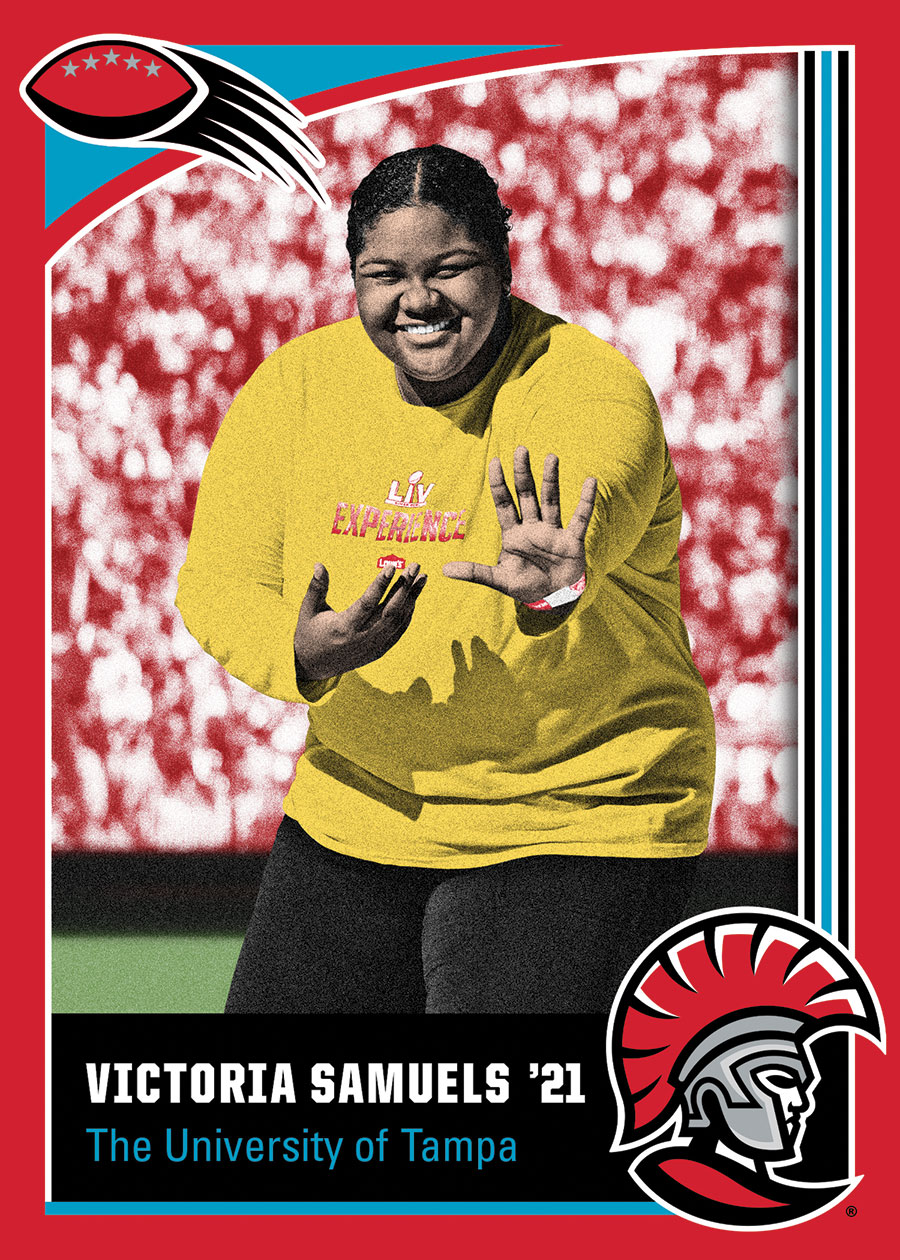 Photograph: Bob Thompson
EXPANDING HORIZONS
Central to the sport management program is opening students' eyes to the wide range of roles within the field.
"We get a lot of students who come in wanting to be general managers, agents and athletic directors, and we use their intro class and practicum class to peel that back a little bit and say, 'Those are the positions that get all of the media attention, but there's a lot more going on here than just those three positions,'" Jisha says.
"I knew I wanted to do social media last year, but I still had to sit through four other classes — and I'm happy I did, because I know for sure that's what I want to do," says Victoria Samuels '21, an international student from Jamaica who volunteered on the social media team and in safety and "fan experience" roles.
In these positions, she got to flex a wide range of skills. One day, she used what she'd learned in her photography class to take photos and videos at Curtis Hixon Park of fans in their Bucs or Chiefs gear for her supervisors to post. Another day, she found herself politely reminding fans to wear their masks — even though they'd already agreed in writing to do so.
But Samuels says that the challenges were worth it for the lessons they provided and the camaraderie they forged. "I learned that I am actually more comfortable and skilled at taking portraits of people than I realized, and I just loved that there was so much teamwork, that it felt like a little family," she says. "It was a once-in-a-lifetime experience."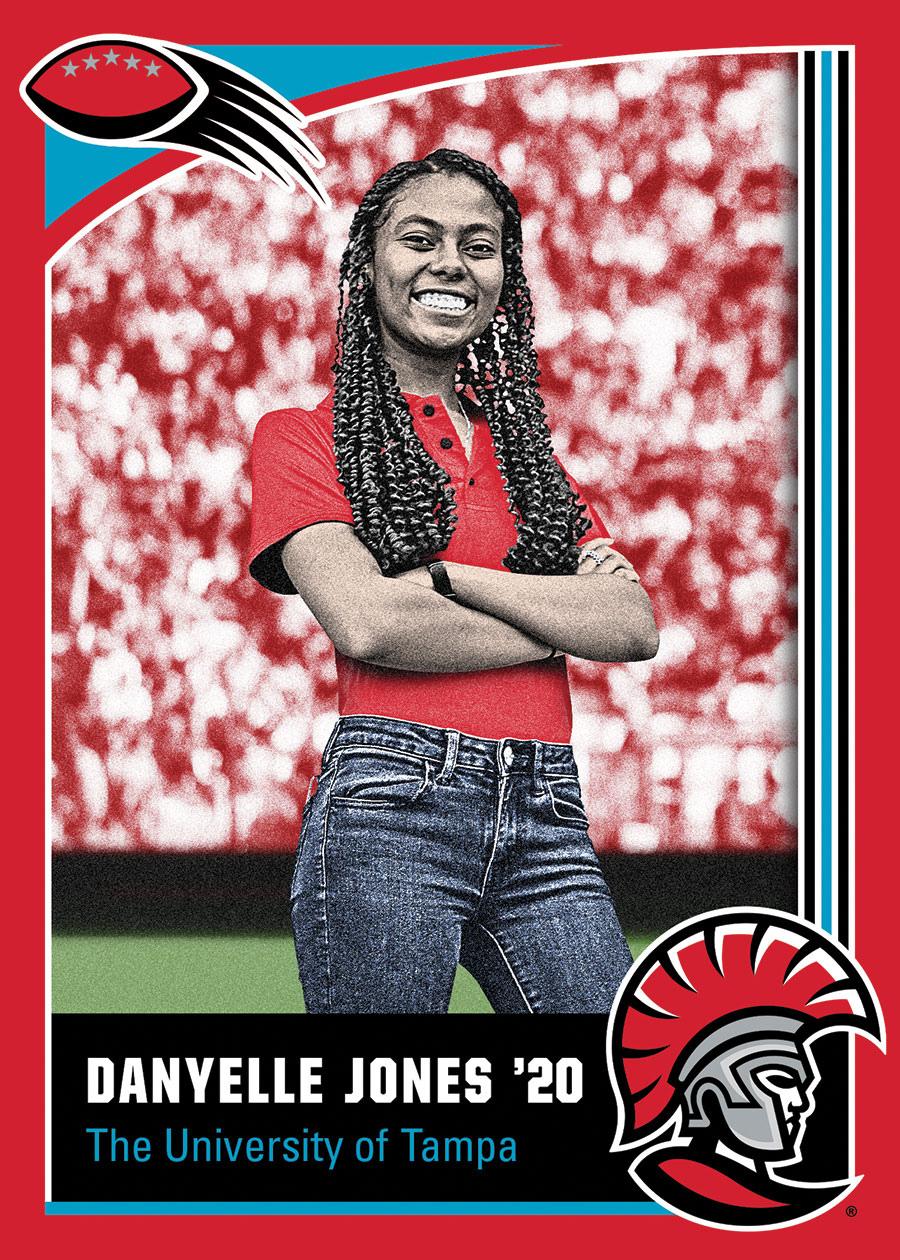 Photograph: Drew McDougall '22
CREATING A NETWORK
Danyelle Jones '20, who is from Knoxville, TN, and has served as mascot coordinator for UT's athletics program, spent five days volunteering. She worked at the SMCC, answering questions about parking and COVID-19 protocols, and also did check-ins for the media and volunteers, handing out credentials.
She was especially excited to network with like-minded students and sports professionals from around the country. "Just being around people and interacting with everybody was such a positive reminder that even though we're going through a pandemic, we still have each other, we still have sports and we're all coming together at the end of the day," says Jones, who plans to connect on LinkedIn with some of the people she met so she can keep in touch with them in the future.
Of course, the free goodies also made the experience exciting.
"(It) was such a positive reminder that ... we still have each other, we still have sports and we're all coming together at the end of the day."
— Danyelle Jones '20
"They gave us so much stuff. I think all my clothes now are Super Bowl clothes!" says Samuels. "I got two sweaters, three golf polos, two hats, lanyards, pins …"
But more than any shirt or water bottle, the ultimate take-aways for these UT students (besides the fun memories) are the skills they gained from the high-profile experience and the connections they forged.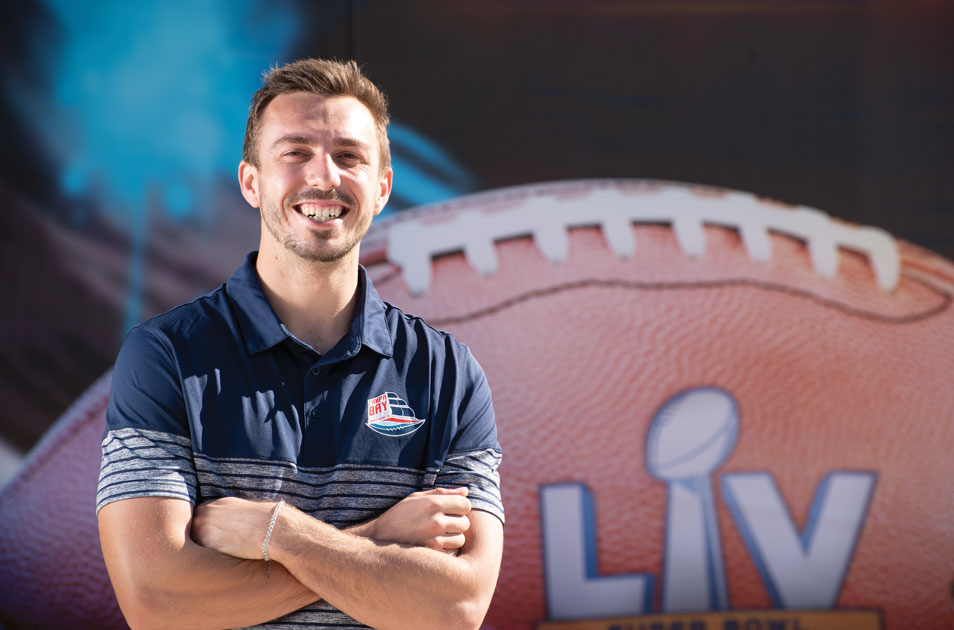 Cody Liner '17, MBA '19 was the creative specialist for the Tampa Bay Super Bowl LV Host Committee.
Photograph: Bob Thompson

A ROLE MODEL
Last year, Cody Liner '17, MBA '19 landed the kind of job that many UT sport management majors dream about.
The Virginia native was hired as a creative specialist for the Tampa Bay Super Bowl LV Host Committee — but this was hardly his first rodeo.
"It all started in 2015, when I volunteered for the Tampa Bay Sports Commission during the Women's Final Four," he says. Then, he got an internship for the NCAA Frozen Four and the 2017 College Football National Championship. From there, it was on to volunteer roles at the 2018 NHL All-Star Weekend and the 2019 Women's Final Four.
When Liner was offered a position on the small-but-mighty, 13-person Tampa Bay Super Bowl LV Host Committee, he jumped at it. "The stakes are always high with the Super Bowl, but this year it felt even more important because of the pandemic. And it felt really exciting to know that we had this opportunity to showcase our community like never before," he says.
His role on the committee ran the gamut, including developing a brand guide, creating signage, working with partners, designing for events and anything else the team needed. "It was long days and long nights, but you run on adrenaline," he says.
Liner feels that UT helped him understand the competitiveness of the sports industry. He adds, "And that spirit of collaboration that we learned as students definitely prepared me for the real world.
SUPER BOWL MOMENTS IN HISTORY
Since 1984, Tampa has played host to five Super Bowls. Here's a look at the big game over the years.
1984
TEAMS: Los Angeles Raiders (now Las Vegas Raiders) vs. Washington Redskins (now Washington Football Team)
WINNER: Raiders (38-19)
ANTHEM PERFORMER: Barry Manilow (the University of Florida and Florida State University bands performed at halftime)
FUN FACT: The Boy Scouts handed out 60,000 black-and-silver pom-poms in the parking lots prior to the game.
1991
TEAMS: New York Giants vs. Buffalo Bills
WINNER: Giants (20-19)
HALFTIME PERFORMER: New Kids on the Block
FUN FACT: Whitney Houston sang the National Anthem in a performance that is widely heralded as one of the greatest renditions of all time.
2001
TEAMS: Baltimore Ravens vs. New York Giants
WINNER: Ravens (34-7)
HALFTIME PERFORMER: Aerosmith, *NSYNC, Britney Spears, Mary J. Blige and Nelly (Backstreet Boys sang the National Anthem)
FUN FACT: This was the only Super Bowl in which back-to-back kickoffs were returned for touchdowns.
2009
TEAMS: Pittsburgh Steelers vs. Arizona Cardinals
WINNER: Steelers (27-23)
HALFTIME PERFORMER: Bruce Springsteen and the E Street Band
FUN FACT: Ticket prices ranged from $500-$1,000.
2020
TEAMS: Tampa Bay Buccaneers vs. Kansas City Chiefs
WINNER: Tampa Bay (31-9)
HALFTIME PERFORMER: The Weeknd
FUN FACTS: Where to begin? For starters, it was the first time a team in the Super Bowl played at its home stadium (and then went on to win). It was the first time a female referee, Sarah Thomas, officiated at the Super Bowl. And, love Tom Brady or hate him, during the first-ever Super Bowl played during a global pandemic, he sealed his status as the Greatest of All Time, winning a record seventh Super Bowl — at age 43.
Source for 1984-2009 stats: Sports Illustrated Super Bowl Gold: 50 Years of the Big Game, edited by Kostya Kennedy
---