Published: September 08, 2020
Spartan Ready Philanthropy
A Local Legend's Gift of Music
Tampa Piano player Carolyn Waller Hardin Heagey, who has performed at UT, was given a remarkable 90th birthday gift from her children: a scholarship for a music student in her name.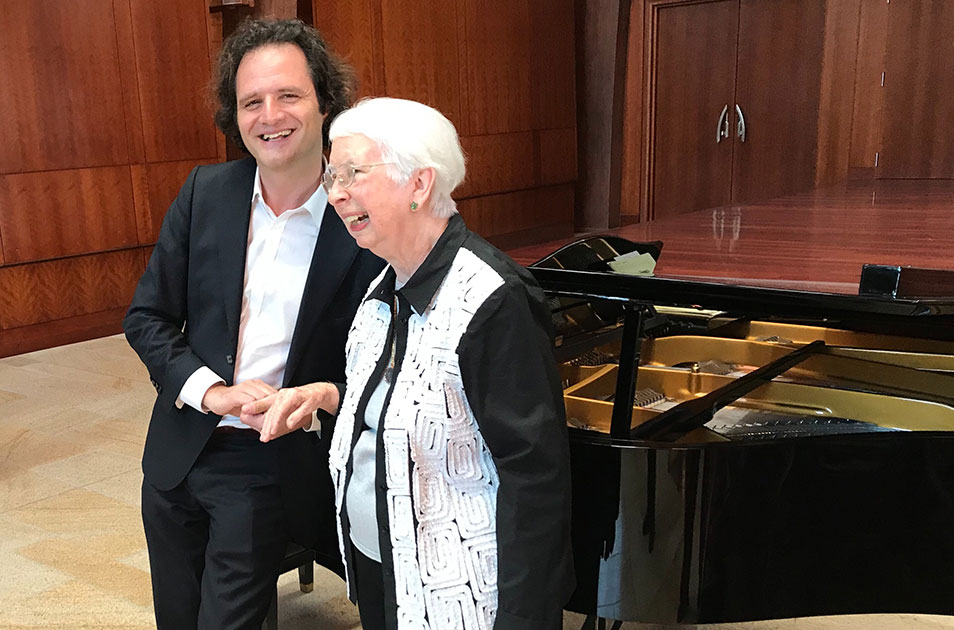 Faculty member Grigorios Zamparas and Carolyn Waller Hardin Heagey after a recital

For 70 of her 90 years, Tampa resident Carolyn Waller Hardin Heagey has been part of the city's soundtrack. She's hit all the right notes as a piano teacher to hundreds, principal accompanist for the Tampa Oratorio Society and organist/ pianist and music director at Bayshore Presbyterian Church. It was that gig (she plans to retire on her 50th anniversary in 2021) that led to her current duet with UT.
About eight years ago, Heagey needed a substitute for a Sunday service, says her daughter Karen Fedor. Through a choir member, she met her sub: Grigorios Zamparas, professor of music and director of piano studies at UT. That small favor led to their teaming up for performances at venues like the Sykes Chapel and Center for Faith and Values, as well as a remarkable friendship.
Heagey and Zamparas frequently play four-hand at the keys and then chat at a local Starbucks. Not even the COVID-19 crisis could interfere. When Heagey's retirement community forbade visitors, a new ritual was composed.
"Grig now hands off a cappuccino for Mom to a staffer at her building who brings it up. She then sits on her balcony, Grig positions himself outside so they can see each other," explains Fedor, "and they continue their visit by phone al fresco." Zamparas wouldn't miss those talks for anything: "She's such a lively person; every moment with her is wonderful. I love sharing in her wisdom."

Carolyn Waller Hardin Heagey playing as a teen.

As Heagey's children planned their mom's 90th birthday celebration, the idea of establishing a scholarship for a promising piano student in their mother's name was orchestrated. "We all agreed it would reflect her lifetime commitment to sharing music with others," says Fedor. The siblings — Fedor plus Dianne Hardin, Ken Hardin, Cheryl Johnston and Deborah Wagner — knew that UT was the right fit "because of her connection to Tampa," she adds, "and the personal connection we all felt with UT because of Grig."
And so the scholarship was created, with help from Marc Brechwald, UT's director of development. On Heagey's April birthday, which was spent in self-isolation due to the pandemic, family members had a framed certificate and frosted, piano-shaped cookies delivered as they gathered outside with signs and songs. Happy tears were shed, and Heagey says, "I can't even imagine a more perfect gift."
The Carolyn Waller Hardin Heagey scholarship, established for a music student, with a strong preference for a deserving young pianist, debuts this fall. Lucas Glenn, an incoming first-year student from St. Petersburg, is the lucky recipient of the $5,000 per annum award.
What's especially harmonious about this, says Zamparas, is that Glenn shares Heagey's "joy and enthusiasm, that absolute love for music." It's a tremendous way to recognize a woman whose contribution to Tampa's musical life certainly deserves a standing ovation.
By Janet Siroto
Photographs courtesy of the Heagey Family

---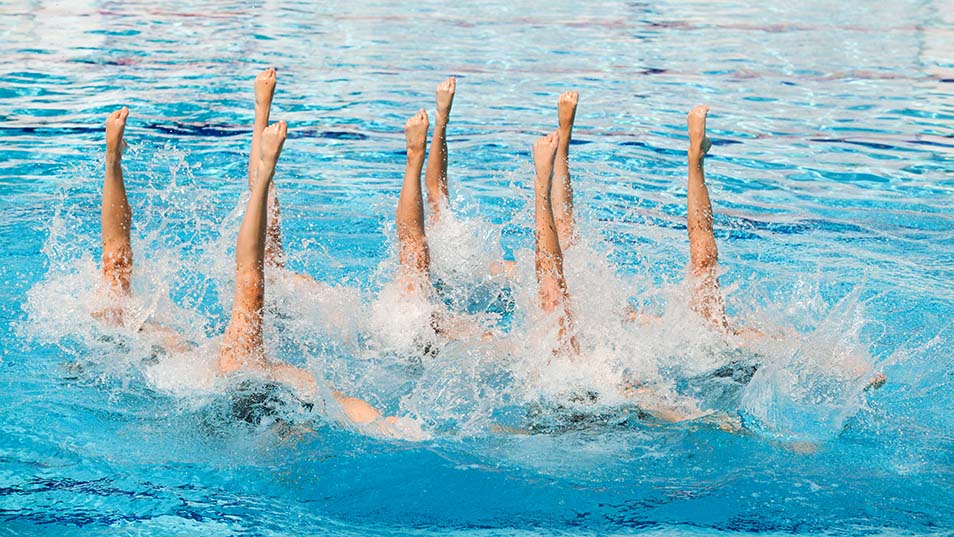 Synchronized swimmers are choreographing a production to a soundtrack of experimental music by UT students.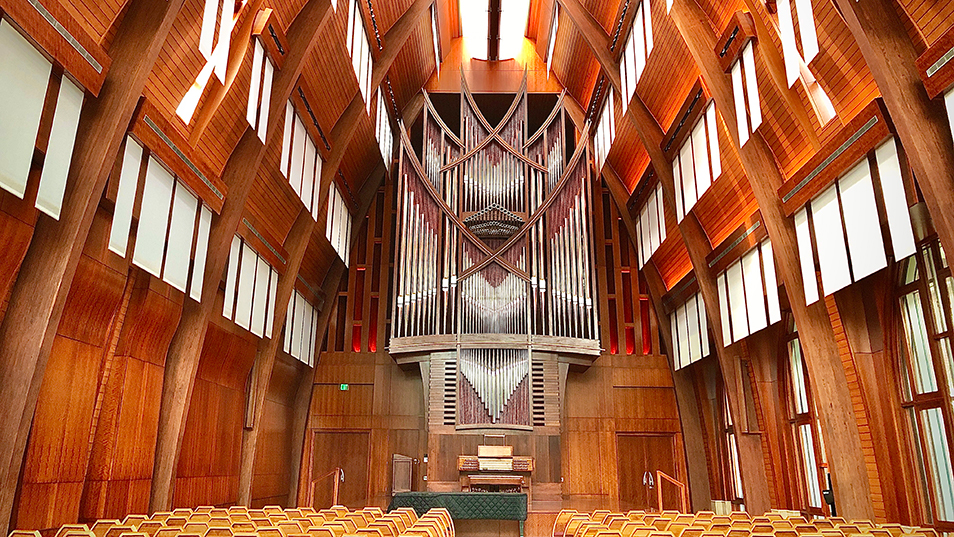 The start of the holiday season can be marked by the Department of Music's annual concert, "Let Heaven and Nature Sing: A Holiday Tradition."
The concert, which is part of the Damron Concert Artist Series and is set annually in the University's Sykes Chapel and Center for Faith and Values, is a Tampa Bay holiday tradition.