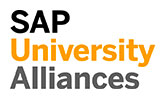 SAP® TERP10 Academy and Certification Exam
Every year in May, The University of Tampa offers the TERP10 Academy, which provides intensive training to prepare individuals to become a SAP Certified Business Associate with SAP ERP. If you are looking for a certification that improves your equity, this is the one. As a student or recent graduate, you may be eligible to enroll in the academy and take the certification exam at a price that is simply not available if you wait.
TERP10 is a 10-day course that helps you prepare for the challenging SAP certification exam. It covers the fundamental integrative business processes in the following components within SAP ERP application: procurement, production, planning, project management, sales, customer service, asset management, financial accounting, human resources and analytics.
On the last day of the course, you will have the option to sit for the certification exam. Upon completion, students who pass the exam will receive their SAP certificate. This is a distinguishing accomplishment recognized by the many companies that use SAP. Visit the SAP website for more information.
The University of Tampa SAP TERP10 Academy
Scheduled Classes
May 11-15 and 18-22, 2020: CANCELED DUE TO COVID-19
Register and pay
Change a previously made registration
Register early to hold your seat, because class size is strictly limited.
Time: 8 a.m.-5 p.m., meets daily Monday through Friday
A one-hour lunch break is provided with options on and off-campus within easy walking distance.
Location: The University of Tampa, Sykes College of Business, room 161
Price: only $850 (does not include the cost of meals or the exam)
On-campus student housing (optional): If you will be extending your stay in campus housing, contact Resident Life as soon as possible to make arrangements to stay and pay for the two weeks of the SAP course.
Out-of-city faculty housing: See below.

The TERP10 course can be offered at this significantly reduced fee due to The University of Tampa's membership in the SAP University Alliance. This discounted price is available only to qualified students and recent students of The University of Tampa and other universities that include SAP content in their courses. Payment in advance is required and covers the cost of professional certified instruction and training materials. Payment is required to hold your seat, and the size of the class is strictly limited.
*Students see prerequisites below.
Faculty desiring to attend should contact & Farouq Alhourani for eligibility. Register now and select the "Qualified FACULTY ONLY" registration type.
The certification exam must be purchased directly from SAP America. Your instructor will help you with this during the first days of class.
*PREREQUISITES
Students must successfully complete at least two SAP-approved, 4-credit hour courses prior to enrolling in the workshop. Two years of work experience demonstrating the foundational SAP knowledge can be used for admittance into the workshop if the students are juniors, seniors or graduate students. Students from other schools should contact Farouq Alhourani, SAP coordinator, to verify eligibility for the workshop.
NO ACADEMIC CREDIT AWARDED. Academic credit is not awarded for this SAP course and no official transcript of this work is maintained by the University's Registrar.
CONTACT INFORMATION
For program and qualifying information – Farouq Alhourani, (813) 257-3505, falhourani@ut.edu
For registration and payment assistance – Gary Simon, (813) 257-1764, gsimon@ut.edu
FACULTY HOUSING
Out-of-town faculty taking the course are not permitted to live on campus. You may want to consider these hotels, which are within walking distance to campus:
Sheraton Riverwalk Hotel, (813) 223-2222
Aloft, (813) 898-8000
Courtyard by Marriott, (813) 229-1100
Hilton Tampa Downtown Hotel, (813) 874-5008
"SAP is the world's leading provider of business software. Today more than 33,200 customers in more than 120 countries run SAP® applications-from distinct solutions addressing the needs of small and mid-size enterprises to suite offerings for global organizations. Powered by the SAP NetWeaver® platform to drive innovation and enable business change, SAP software helps enterprises of all sizes around the world improve customer relationships, enhance partner collaboration and create efficiencies across their supply chains and business operations." (SAP, 2010).
---