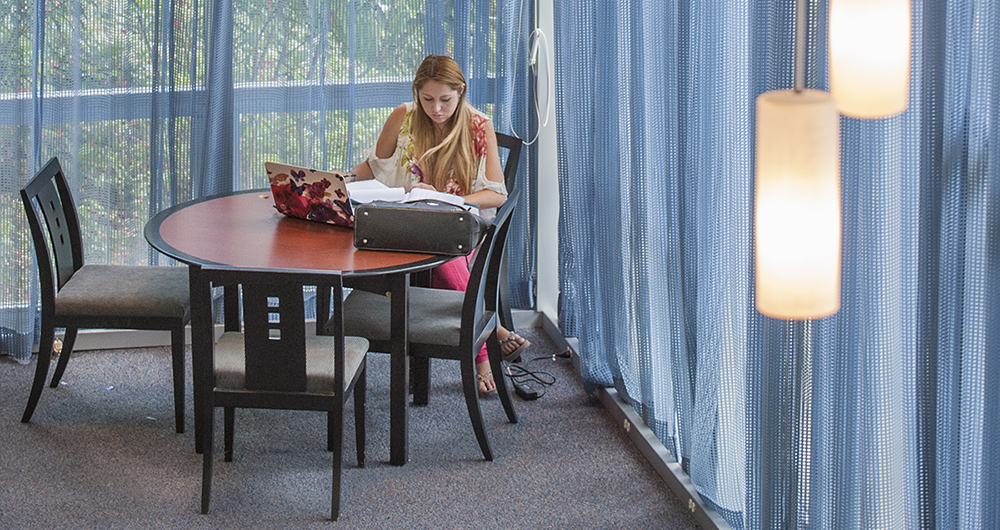 Where is the Macdonald-Kelce Library located?
The University of Tampa's Macdonald-Kelce Library is located next to the swimming pool and across from the Sykes College of Business parking lot.
Is parking available near the library?
Most parking is reserved for commuters, faculty and staff. Students are asked to park in the Thomas or West parking garages.
When is the library open?
Hours are subject to change during final exams, holidays and summer sessions. View the Library's monthly hours of operation.
What other libraries are available for use?
The Hillsborough County Public Library (John F. Germany Library) is located in downtown Tampa and there is also a library available at the University of South Florida in north Tampa.
What is the library's phone/fax number?
Phone number: (813) 253-6231
Fax number: (813) 258-7426 (Library business only)
Can I fax from the library?
The library does not have a fax service. You may send and receive faxes from the Campus Bookstore located in the Vaughn Center (bookstore hours). There is also a 24–hour service at Kinko's on the corner of Kennedy Boulevard and Dale Mabry Highway.
Does the library have audio/visual equipment?
No, but there is a variety of equipment available from Media Services. Call the Media Desk for more information at x3810. The Media Services Department is located on the second floor of the Library.
Who do I contact to reserve a room for my class in the library?
To reserve AV2 for a library instruction class, please contact David Davisson or Leslie Vega. To reserve AV1, log into Spartan Web, click on Campus Life, then visit the Room Request Center and log in with your Spartan Domain.
When is there an audio/visual technician available?
The Media Services Department is open:
Monday – Thursday: 8 a.m. – 5 p.m.
Friday: 8 a.m. – 5 p.m.
Saturday: 8:30 a.m. – 5 p.m.
During the summer months and intersessions, other times apply. Please call the Media Department or library for more information.
How do I check out library materials?
Bring in your UT Spartan Card to check out library materials. Your Spartan Card is your library card as well as your ID card. If you should lose your Spartan Card or forget it, you may use a valid driver's license or state ID, as long as your account is up to date.
How do I get a Spartan Card?
Students can obtain an ID card from the Spartan Card office, located in the Vaughn Center Spartan Club. Regular hours of operation are Monday–Thursday, 9 a.m.-5:45 p.m., and Friday, 9 a.m.-4 p.m. Summer hours are 9 a.m-4 p.m. Monday–Thursday and closed on Friday.
To obtain a Spartan Card, students must bring a copy of their registration clearance form to demonstrate proof of paid tuition (Course and Fee Statement) plus a government-issued photo ID such as a driver's license, military ID or passport.
What kinds of materials can be checked out from the library?
Books, videos, DVDs, CDs, headphones, government documents and maps.
How long can I keep library materials on loan?
Materials can be kept for a six-week check-out period or until the end of the semester, whichever is first. You may renew the item if no one else has a request for it.
What are the fines for overdue books?
Fines are generally $.25 per day for late items in the main collection and $.25 per hour for late items on reserve.
My professor put items on reserve. Where is the reserve collection?
The reserve collection is behind the circulation desk. You may borrow items from this collection for the time period set by your professor, which is usually two hours in the library only. In some cases your professor may allow an overnight loan period (check with staff).
Can you obtain books from another library?
Yes. Interlibrary Loan (ILL) is a process where we borrow materials we don't own from other libraries. This process can take up to a week (more or less, depending on the availability and format), so please plan ahead. Fill out an interlibrary loan request form online. We will contact you when the item has arrived or if there is any problem obtaining it.
Where is the card catalog?
The library's card catalog is online and available at http://utopia.ut.edu.
How many books can I borrow from the library?
Students may borrow as many books as needed for their assignments.
Can I call in to renew books over the phone?
Yes, you may call us. However, it may be easier for you to renew books online through the library's online catalog. Click the icon for Patron Information, log in and follow the instructions. Make sure you note the new due date. For further assistance, please contact a library staff member.
Where can I return materials if the library is closed?
There is a drop box located to the left of the front doors on the outside of the library.
How do I find a book on my topic?
You should try accessing the information on the library's online catalog at http://utopia.ut.edu. Click on the icon for the catalog and select a search, either by author, subject, title, or keyword.
There are many other methods for searching. If you are having difficulty, please come by and discuss your topic or research with one of the reference librarians. Our Reference Department is open from 8 a.m.-9 p.m. Monday – Thursday; all day on Friday (note change in summer schedule) and from 1-9 p.m. on Sundays.
How do I find an item on the shelf?
The collection is organized by the Library of Congress system. Materials are grouped by subjects, which are noted by an alpha-numeric code found on the label of the item. Journals and magazines are shelved alphabetically by their title on the first floor of the library.
Where can I find electronic information?
Access to journals and other electronic material is available through the library homepage by clicking Databases if you are on campus. If you are off campus or using wireless access you must use the eSearch link. Log in with the first segment of your UT email address and the email password.
How do I submit to the Library's Institutional Repository?
The University of Tampa Institutional Repository (IR) is a digital service that collects, preserves and distributes the intellectual output of the UT community. The repository is an important tool for preserving UT's legacy while promoting the University's scholarship around the world.
If you have questions or would like to submit your material to the IR, please submit the Submission Permission for IR Form or contact us by email at repository@ut.edu.
---