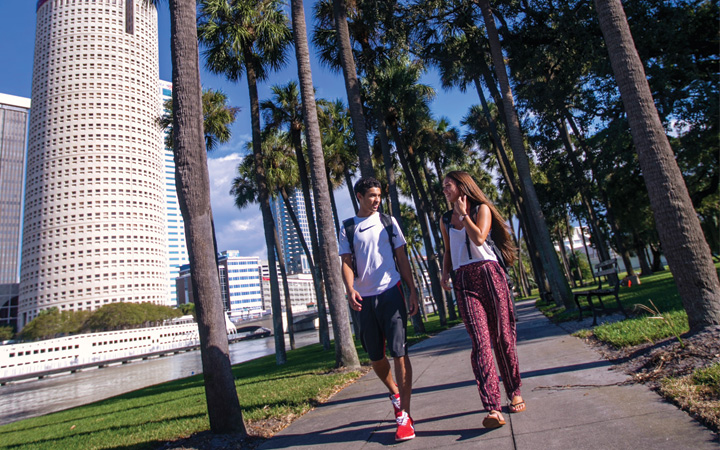 Innovative First-Year Program
Recognizing the importance of this transition, UT has established an innovative first-year program designed to help students fit in quickly, set goals and acquire the skills needed to excel in their academic careers.
First-year students learn to make intelligent academic, co-curricular and social choices through The University of Tampa's First-Year Experience program. Each student is assigned to a year-long (a one-credit course each semester). Classes are small — usually no more than 23 students with similar interests.
Students today need more than a college catalog to plan their future.
The quickly changing demands of the professional world, graduate school, as well as the undergraduate experience require that a first-year student be more sophisticated about personal strengths, setting realistic goals, and adapting to changes in society which influence their life in college. The First-Year Experience program is designed to give entering first-year students the tools to make intelligent decisions about personal matters, academic direction and career choices.
The First-Year Experience program is composed of a two-course sequence which is designed for and required of all first-year students.
First-year instructors serve as an academic mentor helping their students adjust to college, succeed in their academic pursuits and lay down plans for career paths that they will pursue after college. The faculty who teach in the First-Year Experience program do so in addition to their required academic load or administrative duties, making these instructors an especially dedicated group of educators who are committed to helping students adapt to and succeed in college. Additionally, each First-Year Experience program instructor is paired with a student mentor. These are upper-class students who have successfully completed the First-Year Experience program. These peer mentors offer additional support to new students both academically and socially as they help new students connect to the UT community. All Peer Mentors are required to take BAC 200: Peer Leadership, this course is designed to further develop their mentoring skills and counts as elective credits toward the leadership minor.
One of the greatest challenges first-year students face is time management.
Consider that in high school, each week a student is in a structured learning environment lasting about 35 hours per week where they are supervised by their teachers. In college, that number drops to about 16 hours. In those 16 hours, the lectures are typically delivered at a faster pace and the number of hours that a student must spend outside of lecture greatly increases if the student is going to master the material. In order to succeed in college, first-year students must effectively manage their time outside of class, balance their academic and social life, adapt to new teaching styles and expectations, master outside readings, keep pace with lectures and assignments, plan their academic career to satisfy their degree requirements and begin to prepare for a career path.
First-year instructors offer guidance in making these adjustments as they discuss their own career trajectories and expose students to their own research interests in inquiry-based, themed courses. Most important of all, the First-Year Experience program provides the students with a dedicated instructor who is committed to their student success and persistence, with both their academic life and other aspects of life at UT.
The transition from home and high school to the rigors of college life can present even the best students with challenges that require major adjustments and the swift acquisition of new skills. The need to become more sophisticated about academic demands and personal strengths. Getting off to the right start is critical.
Academic Support
Students are encouraged and supported in their pursuit of academic and extracurricular achievement. Support services include free tutoring in the Academic Success Center, the Saunders Writing Center and the Center for Public Speaking.The Office of Career Services is staffed with readily accessible counselors who encourage students to participate in self-evaluation and assessment activities, personal interest inventories and mock interviews that help determine interests, skills and values as they relate to career choices. A historically strong tie to the local business community translates into a dynamic group of business leaders who serve as additional resources in exploring career options.
---
---
Apply
Start the admissions process today!
---
Receive Information
Receive information via mail and email.
---