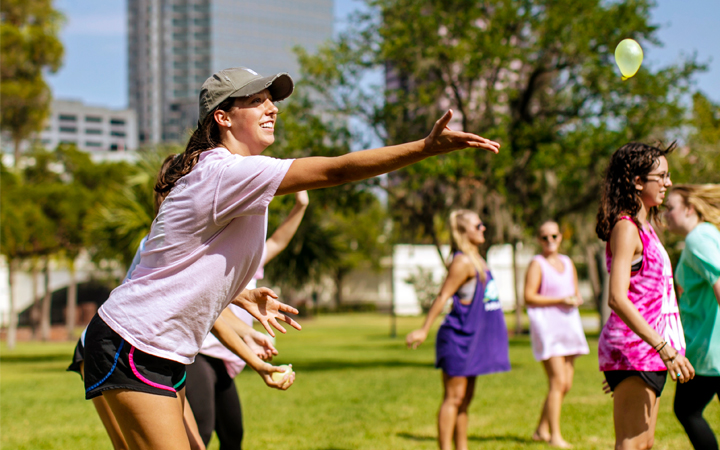 Doing well academically is only one aspect of succeeding in college. Students also need to feel connected to the University and the surrounding area to flourish. Through the Success Scholars program, students will be part of a community of over 500 first-generation and/or underrepresented peers on campus. To help feel more connected to this community and to UT, students will be assigned a SPEAR (Spartan Peer Educating About Resources) who will help them navigate the University and provide a space to connect to other scholars and the campus. The program will also have large-scale events throughout the semester that will allow participants to connect with staff, professors and social support resources on campus. Beyond the events and resources the Success Scholar Program provides, below are some campus-wide organizations and initiatives to connect with while at UT. The UT calendar is a good resource to stay on top of events and important dates throughout the semester.
SPEARs
SPEARs (Spartan Peer Educating About Resources) are students' primary point of contact with the Success Scholars program. All of the SPEARs are current UT students and understand first-hand what it takes to be successful in college. They will help connect participants to resources, serve as a coach, and host events to help connect with them and other students in the program. Below is the SPEAR roster for Spring 2019-2020:
Alec Decato (Lead)
Katrina Coates
Briana Cole
Graceline Galan
Erica Gambatese
Magen Hoch
Enaara Jariwalla
Amber Johnson
Maredh Lopez Ocasio
Breanne Mazzella
Morgan Miller
Michelle Mooney
Katherine Murphy
McKenzie O'Malley
Gisselly Peralta
Samantha Perez
Javier Rodriguez
Arianna Sosa
Diversity Initiatives
Diversity Fellowship: This student led organization seeks to address the way UT addresses diversity on campus. Fellowship members host various events on campus that address identity based social issues.
Spartan Sustained Dialogue: This organization focuses on educating the campus about social justice issues using dialogue. Dialogues are hosted on campus and focus on sex and gender, race, ethnicity, sexual orientation, ageism, socioeconomic status, ability and religion.
Student Engagement
Leadership Programs: The University offers a variety of leadership programs to help students develop leadership skills while connecting with UT students and staff.
Student Organizations: The University has more than 200 clubs available to students to explore their interests and connect with other students who are passionate about the same things! Don't see the club you are interested in? Make one!
Mental Health and Wellness
Career Development
Career Services: Students can rely on the Office of Career Services to support them in their career exploration and preparation throughout their time at UT and beyond!
Spartan Ready: By participating in clubs, group projects, campus activities, sports, etc., UT students have an opportunity to learn high demand (Spartan Ready) skills employers are looking for in recent college graduates. Spartan Ready helps UT students prepare to be successful as students, future professionals and individuals once they leave the UT community.
---